AngularJS Course ▷ Live Project ▷ 100% Job ▷ Free Github Training ▷ Online/Offline ▷ SLA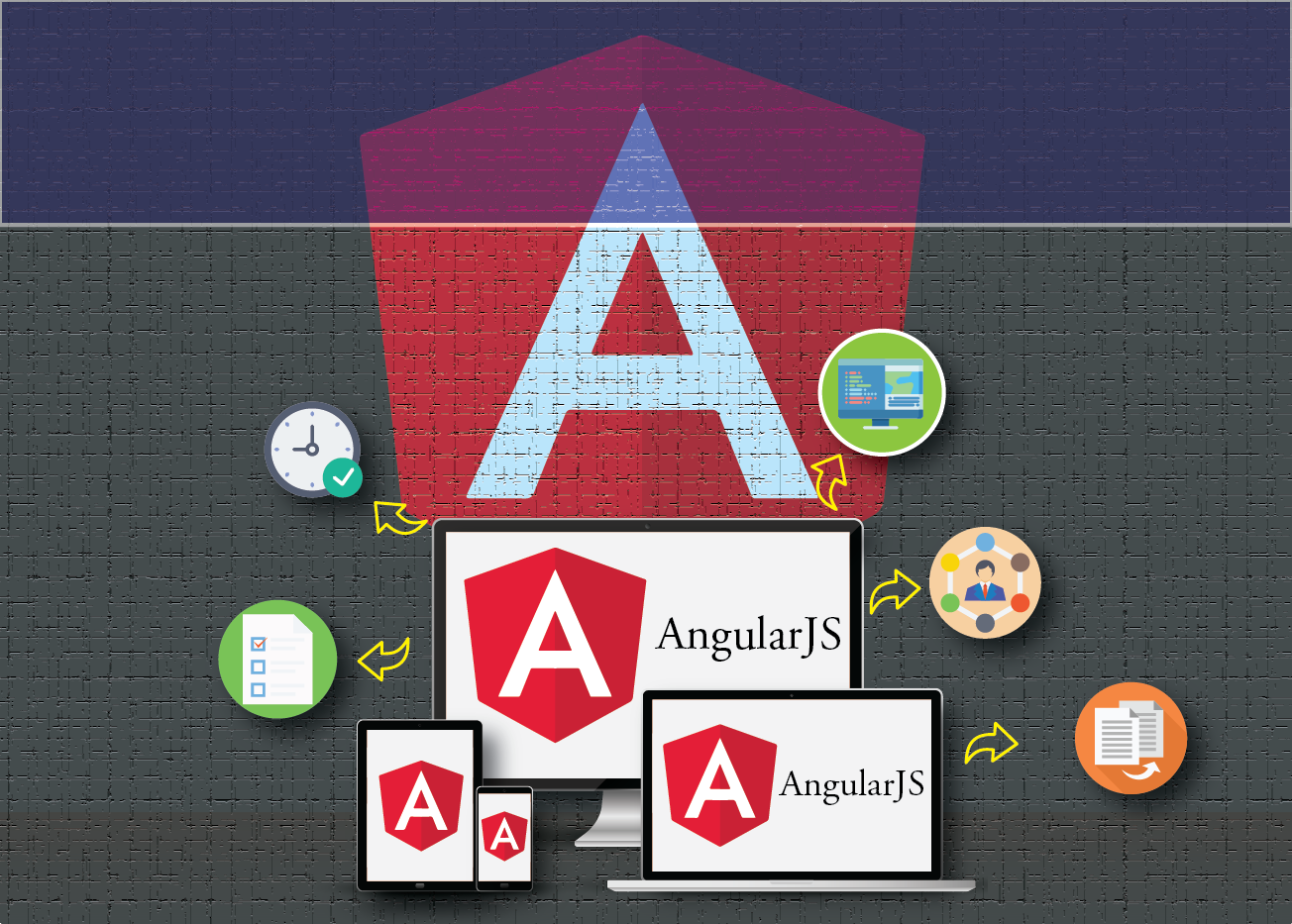 AngularJS Training Course in Delhi
SLA Consultants India
Reduced Dev
Time
Testability
Dynamic Web
Application
Easy User
Interface
Extension
AngularJs Training Course ▷ Free Demo
AngularJS Training Course
AngularJs Training Course is another industry standard and Advanced Programming Language Training Course designed by SLA Consultants India to prepare the students who wish to go down the complex road of web development. AngularJS is known as a structural framework to create dynamic apps using HTML and XML.Since it is widely used by business organizations all over the world for web development, it offers a great scope and by learning AngularJS by SLA Consultants India in Delhi NCR, Noida & Gurgaon/Gurugram,the students can open doors to a promising and successful career in the web development.We train with the best of technology, outstanding infrastructure,latest and Advanced AngularJS Course material taught the best instructors in the industry.
AngularJS is an open source web development JavaScript framework based on HTML and CSS designed by Google. It is used to develop web pages and applications with Model View Controller (MVC) Architecture and considered as one of the most demanding Java frameworks these days. Best AngularJS Training Institute in Delhi NCR, Noida & Gurgaon/Gurugram, where the students will get in-depth analysis of using AnglularJS in various design and development to form robust and user-friendly apps. With our highly qualified and certified instructors, the participants will learn various effective ways of adding AngularJs to HTML and cover its vital elements that include directories, filters, events, controllers, modules, routing, single page application, data binding, dependency injection and much more.
The AngularJs Training Course is targeted to those students and professionals who wish to enhance their knowledge of JavaScript, HTML and CSS and take on AngularJS projects. Anyone with some specific programming language understanding can join this Best AngularJs Training Course in Delhi NCR and give wings to his career in the IT field. The AngularJS Course can be completed within 1 – 2 months and soon after, they can join a reputed firm for a Java programmer profile. Some other benefits of choosing SLA Consultants India, the Best AngularJS Training Institute in Delhi NCR, for the AngularJS training course, where the students will get complete access to our special online forum and tutorials to sharpen your skills and clear your doubts anytime. Upon completing the AngularJs Training Course, you will also be entitled to our 100% Job Placement Assistance offer in Delhi NCR location.
AngularJs is one of the most powerful JavaScript based web development frameworks to build RICH Internet App.
Ability to write client-side application in a clean MVC way using JavaScript.
It is open source and completely free web development framework used by millions of business owners, thus offers a higher scope in the IT field.
It is easy to learn and implement as compared to other programming language frameworks.
Very useful for web developers, project managers and testing professionals in their profession.
Allows the developer to use HTML vocabulary to create applications.
AngularJs is completely extensible and works well with other libraries.
Every feature can easily be modified and changed to fit the requirements.
Choosing AngularJs Training Course from SLA Consultants India in Delhi NCR, Noida & Gurgaon/Gurugram, will certainly help you lead a promising career in the coding world as we provide the user with needed guidance, updated AngularJS course material and an incredible learning environment to help them hone their programming skills. We encourage every student to learn each concept of the highly demanding framework along with AngularJS Training Certification, thus giving them a competitive edge over others when applying for the job profile.
Course Duration:
30 HRS with Highly Skilled Corporate Trainers (Angularjs Training) for Modules – Weekdays / Weekend
SLA Consultants India – AngularJS Certification Training Delivery Method:
Web / Desktop Base.
Instructor-Led Classroom Sessions.
Presentations/Demonstration/Practicals of concepts.
Handouts/Assignments/Real-time Exposure to work on Clients.
AngularJS Training Programme Modules
AngularJs Training Course
Please find the AngularJS course details.
Kindly call us @ 9350319190 for AngularJS Course details!
Duration of Module
| AngularJS Course Module | Course Duration |
| --- | --- |
| AngularJs | 30 (Hours) |
Batch Timings
| AngularJS Course Schedule | Course Timing |
| --- | --- |
| Monday to Friday | 8:00 AM – 10:00 AM |
| Monday to Friday | 10:00 AM – 12:00 PM |
| Monday to Friday | 2:00 PM – 4:00 PM |
| Monday to Friday | 4:00 PM – 6:00 PM |
| Saturday/Sunday | 8:00 | 12:00 | 2:00 | 4:00 |
| Sunday | 8:00 AM – 10:00 AM |
| Sunday | 10:00 AM – 12:00 PM |
| Sunday | 2:00 PM – 4:00 PM |
| Sunday | 4:00 PM – 6:00 PM |