Expert Selenium Training in Delhi, Gurgaon & Noida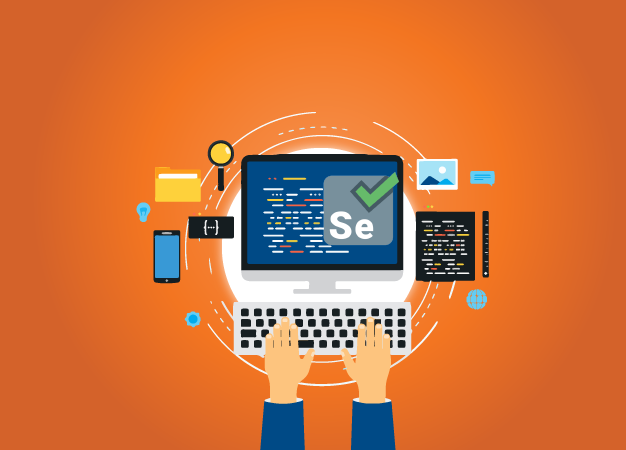 Online/Offline
Selenium Grid
GIT HUB
Automation
Test Framework
Maven Project
Management
Tool
Source Labs
DB Connectivity
Web Services
Java For
Web Driver
Locators & Object
Identification
Selenium IDE
Expert Selenium Training Course
Expert Selenium Training Course
Expert Selenium Testing Training Course
Selenium is open source Automation and Testing tool utilized by Business organizations for testing web-based applications. The Expert Selenium Training provided by SLA Consultants India in Delhi, Noida & Gurgaon/Gurugram is a specifically designed Expert Selenium Testing Training Program for students and candidates who wish to become a professional quality assurance operator and software tester. The Expert Selenium Testing Course will provide in-depth and wide knowledge in Automation Software Testing using selenium tool.
Selenium is a widely utilized and popular Automation Testing tools for web-based applications usually for the browsers such as Google Chrome, Firefox, Opera and Safari. It is used by major business organizations all over the world to enhance the efficiency of web-based application and perform business operations with flexibility and ease. The reason behind its extreme popularity is its compatibility with all operating systems and web browsers along with different programming languages such as Java and Ruby. It is currently operated by Google developers with the latest version WebDriver. The Expert Selenium Testing Training Course in Delhi NCR, Noida & Gurgaon/Gurugram is also quite popular among the IT students and working professionals who want to learn the ability to automate various web-based applications using Selenium tool. The highly Advanced and Expert Selenium Testing Job-oriented Software Testing Training provided by SLA Consultants India in Delhi NCR, Noida & Gurgaon/Gurugram centres would give expert knowledge in writing test cases, selenium grid, Selenium RC, Selenium IDE, Selenium WebDriver and implementing various frameworks such as hybrid, data-driven and page object model. Some of the major elements covered during the two-month Expert Selenium Testing course include testNG framework, locators and object identification, working with multiple browsers, database connectivity, project management tool and Web Services along with others. After completing the Expert Selenium Testing Training, the candidates will be able to run Test Suite from Selenium code, use API in retrieving and reporting results, creating shared object repository, executing a real-time project and other functionalities of Selenium automation tool.
The classes are designed in a systematic manner to meet the preference of different students and candidates. Anyone with a graduation degree in IT field can pursue the Expert Selenium Testing Course. The Expert Selenium Testing will be provided by industry expert trainers with years of experience in the field using the latest and job oriented Expert Selenium Testing course curriculum. Other major features of the training include hours of instructor-led Selenium Testing Training, complete student support, real-world scenarios and use cases, real-time practical training and approach, projects and assignments and 100% Job Placement Assistance. The Expert Selenium Testing course is mainly targeted towards candidates who have some knowledge of selenium tool and wish to and hence his or her expertise in order to meet the current and future requirements of the business organizations. Therefore, if you also want to pursue a successful career in software testing and Quality Assurance then attend expert Selenium training from SLA Consultant as soon as possible.
With increasing number of businesses now utilizing the web-based application for their business processes, the demand for Automation Testing operators has increased greatly in the past couple of years. Business organizations are now understanding the benefits and importance of using cloud computing and web applications for performing business operations as it is quite flexible, save a lot of time and effort along with money. This is why learning Expert Selenium Automation Software Testing can prove to be highly beneficial for candidates as it will provide enormous job opportunities in the near future.
Some other reasons why learning Selenium can be very effective for the candidates in pursuing a promising career are as below:
Unlike other automation testing tools, the Selenium is highly flexible as it supports all the operating systems and browsers.
Being an open source tool, enterprise prefers Selenium over other automation tools along with the fact that it is compatible with many popular programming languages.
Selenium has a vastly active developer community which is dead by the Google itself.
Anyone with little knowledge of software testing can master Selenium in few months.
It also supports various open source frameworks integrations like testNG, Junit and Nunit.
Capability to run parallel tests through different browsers on various machines, saving the test execution time on large projects.
The demand for Selenium operators in the market is huge and expected to grow in near future.
The average salary for quality assurance and Selenium automation tester in India is Rs. 783,036 annually.
The automation tool is used by various top Industries such as Dell, Cognizant, Viasat and Cigniti.
With all these remarkable benefits linked with Selenium automation testing, it would certainly be an excellent choice to pursue a career in Selenium testing. In order to become a professional in the field join our expert Selenium training at once. For any information or query regarding the training program or the institute, please visitor center in Delhi, Gurgaon/Gurugram & Noida.
Course Duration: 55 HRS with Highly Skilled Corporate Trainers
(Expert Software Testing Training for Modules – Weekdays / Weekend
SLA Consultants India – Expert Software Testing Certification Training Delivery Method:
Web / Desktop Base.
Instructor-Led Classroom Sessions.
Presentations/Demonstration/Practicals of concepts.
Handouts/Assignments/Real-time Exposure to work on Clients.
Expert Selenium Testing Training Programme Modules
Expert Selenium Training Course
Please find the Expert Selenium Testing Course details.
Kindly call us @ 9350319190 for Expert Selenium Testing Course details!
Duration of Module
| Expert Selenium Course Module | Duration |
| --- | --- |
| Expert Selenium Automation Testing Training | 55 (Hours) |
Batch Timings
| Expert Selenium Schedule | Timing |
| --- | --- |
| Monday to Friday | 8:00 AM – 10:00 AM |
| Monday to Friday | 10:00 AM – 12:00 PM |
| Monday to Friday | 2:00 PM – 4:00 PM |
| Monday to Friday | 4:00 PM – 6:00 PM |
| Saturday/Sunday | 8:00 | 12:00 | 2:00 | 4:00 |
| Sunday | 8:00 AM – 10:00 AM |
| Sunday | 10:00 AM – 12:00 PM |
| Sunday | 2:00 PM – 4:00 PM |
| Sunday | 4:00 PM – 6:00 PM |