Business Analytics Course in Delhi ▷ 100% Job ▷ 500+ Clients for Interview NCR ▷ Free Python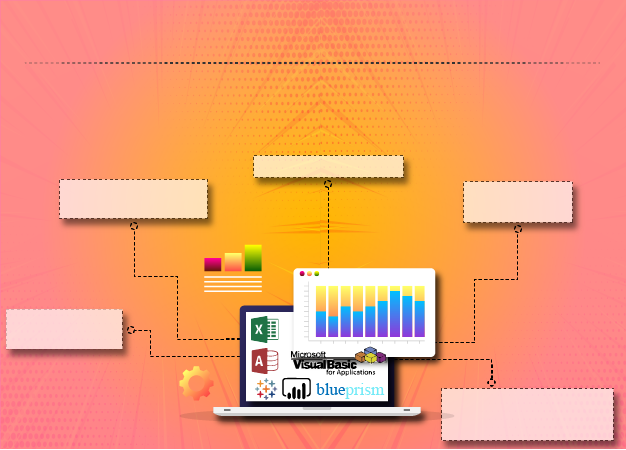 Business Process Analyst Training in Laxmi Nagar,Delhi
MS Access & SQL
VBA/Macros
& Dashboard
Tableau/
MS Power BI
RPA Blue Prism/
AutomationAnywhere
Basic &
Adv. Excel
Business Process Analyst Training
Business Process Analyst Training Course
A Business Process Analyst (BPA) is a specialty Business Anlayst who is able to analyze the company and business domain along with documenting the Business Processes, draw inferences from process details and systems and assess the business model and integrating the technology. The Business Process Analyst is one of the most important personnel in any business organization who breaks down the process in different steps and develops Technical Solutions to the business issues and have the company to advance by increasing their sales effort, define and analyze requirements, manage requirements at project levels and help the company to fulfill their business requirements. Today, the importance of Business Analysts is huge in the market as they can identify business issues and facilities solutions to the stakeholder so that the business performs efficiently in the future, increasing productivity and performance. This is why a large number of candidates and students who have completed their graduation wants to enter into the Business Rrocess Aanalysis field and gain expertise and skills so that they can become a highly demanding professional who will be respected and recognized in the market. If you are also one of those candidates, then what you should do is to attend professional and quality Business Process Analyst Training Course in Delhi where you will get to learn and master numerous Tools and techniques that would help you perform Business Process Analysis such as Advanced Excel, MS Access and SQL, etc. SLA Consultants India has designed a remarkable and job specific Business Process Analyst Training Course which is targeted towards both beginners and working professionals to learn and enhance their expertise in Business Process Analysis and lead a promising career successfully. The Business Process Analyst Training will focus to empower the candidates to have clear and precise knowledge in Business Process Analysis Planning, Monitoring, Requirement Management, Communication, Requirement Analysis, Enterprise Analysis and Solution Assessment. The course curriculum of the Business Process Analyst Certification Training Course is prepared by industry experts that fulfill all the business requirements in the future. The Business Process Analysis Certification Program will also impart practical skills and increase efficiency with the help of Business Process improvement. It will provide Real world knowledge and expertise in performing Business Process Analysis activities and make you a suitable and irreplaceable candidate for any business organisation. We have been providing Business Process Analysis Training Course to the aspiring candidates for the last 10 overs successfully can have already trained thousands of students who are currently placed at reputed positions in numerous multinational agencies. If you also want to be one of them, then you can attend our remarkable and intelligently designed Business Process Certification Program which will cover all the advanced aspects of Business Process Analysis and make your professional who can face any challenge regarding business capabilities, optimization and ideas to fulfill and properly implement to enhance the performance of the company. There are no specific requirements necessary to fulfill in order to attend the Business Process Analyst Certification Course in Laxmi Nagar, Delhi. The students only required to have a graduation degree in any field along with an interest in numbers and figures.
Business Process Analyst Training Course in Delhi will provide profound and job oriented knowledge to the students in various Business Process Analysis tools such as Basic and Advanced MS Excel, VBA and Macros, MS Access and SQL, Tableau and MS Power BI, RPA Blue Prism and Automation Anywhere. These are some of the Business Process Analysis tools which are utilized by Business organizations all over the world for identifying business issues, determining possible solutions, communicating the solutions with the stakeholders, developing efficient reports and documentation, and much more. The Business Process Analysis Certification Program is conducted by highly qualified and professional instructors having good 10 to 15 years of experience in Business Process Analysis. They will deliver Business Process Analyst Real Time Practical Training under expert supervision along with live projects and assignments which are aimed to provide real-world expertise and hands on experience to the students. The Business Process Analysis Training will give all the necessary skills to the participant required to become a professional Business Process Analyst which include excellent verbal communication skills, ability to corporate stakeholder meetings, excellent listener, better presentation skills, strong time management skills, excellent documentation and writing skills, performing stakeholder management and development of modelling skills. Some of the elements of Business Process Analysis which the students will perceive during the Business Process Analyst Certification Training in Laxmi Nagar, Delhi include managing process change, educating business users for operating and managing Business Processes, Business Services planning and monitoring, leading process redesign workshops, elicitation and collaboration, documentation of processes, Strategy Analysis, Requirement Lifecycle Management, Solution Evaluation, Agile Perspective, Requirement Analysis and design definition, Business Intelligence perspective, Information Technology perspective, business architecture perspective, Business Process Management, etc within a short span of time.
Upon successful completion of the Business Process Analyst Training, the students can easily target job profiles such as IT Business Analyst, Business Consultants, Data Analysts, and much more and fulfill all their job responsibilities without any hassle. They will be able to easily communicate with the internal colleagues to better understand the requirement of the department and organisation, work efficiently with external stakeholders to understand and investigate business solutions and feedback, using Data Modelling techniques to analyse business findings and develop suggestions for strategic improvement, considering opportunities and potential risks associated with the recommendations, identifying the processes and IT requirements to implement the suggestions, gaining agreement from the senior management regarding the best practices for the business, communicating the benefits of the solutions to the department and addressing their concerns, developing documentation to support the work and business finding and presenting it to the stakeholders whenever required, supporting staff and team members and resolve their issues and making sure that the plans and processes are evaluated efficiently. At SLA Consultants India, the students receive extensive coverage on the Business Process Analysis techniques and tools using live examples and case studies. Our experts faculty and reliable administration offer complete support to each student, allowing them to master the Business Process Analysis process without any difficulty. Some of the major highlights of the Business Process Analyst Training Course in Delhi include instructor LED classroom, workshops and handouts, 7 days of week administration support, and valid Certification in Business Process Analysis after successful completion of the Business Process Analyst Training. It helps the candidates to stand out from the crowd during the recruitment process and build their resume which can attract the attention of the recruiter. 100% Job Placement Assistanc is also given to the participant to help them easily clear any job interview they come across in first attempt and lead a successful career.
The importance of Business Process Analysis can be considered by the fact that the amount of data which is generated by the companies are getting bigger and bigger which needs to be analysed and evaluated to help them make better decisions. Today, the potential customer care easily access information from laptop and smartphones which can generate a massive amount of information for the business to use. However, not every business knows how to use that information for your own good. This is where Business Process Analysis comes in. A professional Business Process Analyst can help the company to perform Business Process Analysis and identify areas of improvement and future growth by determining business issues and finding solutions. It can be used for performing statistical and Data Modelling and develop new business insights and strategies. Today Business Process Analysis is becoming more and more popular among college students along with the Business Industry as companies are also understanding its importance and hiring professionals.
If you have an interest in learning Business Process Analysis but have doubt on whether you should consider learning Business Process Analysis, then below mentioned points and certainly help you make an informed decision.
Due to the increasing competition and large number of data being generated in industry, there is a huge requirement for professionals who can perform Business Process Analysis and help the company achieve their organizational goals easily. Therefore, if you learn Business Process Analysis, then you can be one of the most demanding and designing candidate in the market.
Business Process Analysis is a process which is not restricted or Limited with any particular industry. After learning Business Process Analysis, you will be able to target any business industry such as telecommunication, real estate, stock market, healthcare, Information Technology, banking, finance, etc, giving you wide career opportunities to pursue.
After acquiring skills in Business Process Analysis, you can also target a number of job profiles such as Business Intelligence Profession, Business Analyst, Data Analyst, Data Scientist, Data Manager, Senior Analyst, etc. All of these job profiles have their own importance with high income and recognition.
According to Gartner, the number of job opportunities associated with the Business Process Analysis is expected to increase by 50% in the upcoming years. And the fact that there is a very less number of supply in the market for the professional which will give you better job security and opportunities for many years to come.
One of the most obvious reasons to learn Business Process Analysis is the fact that pay scale associated with it is extremely. On an average, you can easily earn around 6 lakh per annum in India as of 2018 which will certainly it is greatly in the future.
Many multinational organizations such as Google, Microsoft, Accenture, Infosys, HCL and IBM have constant demands of professional Business Analysts which you can target and lead a successful career in the future.
With all these benefits associated with learning Business Process Analysis, no wonder more and more college freshers are pursuing Business Process Analyst Training Course in Delhi to become a professional. If you have also made a decision to learn Business Process Analysis, then you can attend our reliable and high quality Business Process Analyst Training Course in Laxmi Nagar, Delhi at a very reasonable price. For more information regarding the course or our Business Process Analyst Training Institute, you can visit our Head office in Laxmi Nagar, Delhi..
Course Duration: 125 HRS with Highly Skilled Corporate Trainers Business Process Analyst for Modules–Weekdays/Weekend
SLA Consultants India – Business Process Analyst Practical Training Delivery Method:
Web / Desktop Base.
Instructor-Led Classroom Sessions.
Presentations/Demonstration/Practicals of concepts.
Handouts/Assignments/Real-time Exposure to work on Clients.
Business Process Analyst Programme Modules
Business Process Analyst Training Course