SQL Server DBA Course ▷ Join Free Demo ▷ Online/Offline SQL DBA Training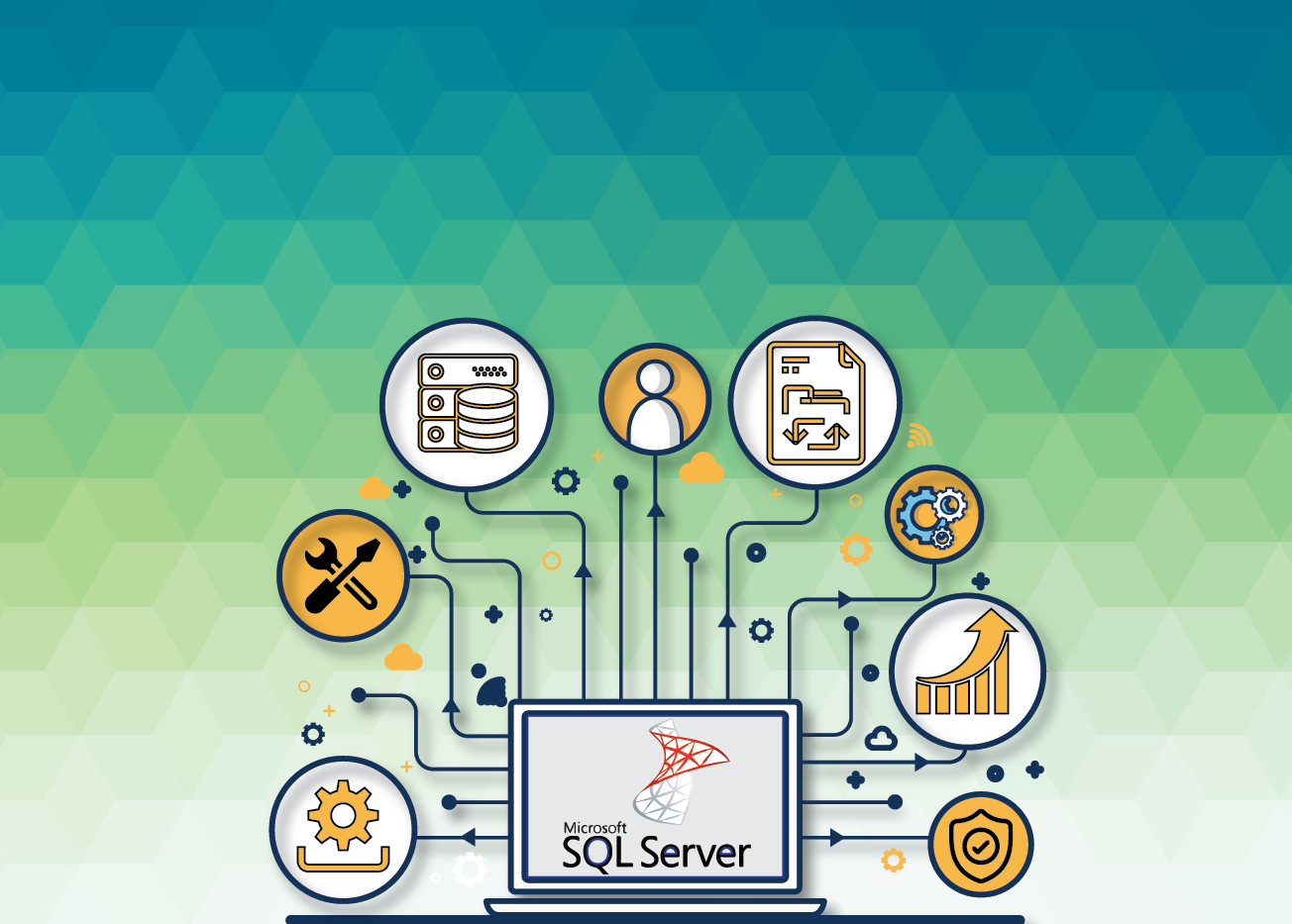 SQL Server DBA Training Course in Delhi
Database
Design
Configuration
Installation
Migration
Performance
Monitoring
Security
SQL Server DBA Training Course
Microsoft SQL Server is a relational database management system used for enterprise environment and consists of a remarkable number of pictures including error handling, transaction control, exception handling, declared variables and row processing. An SQL Server Database Administrator is a professional who has expertise in configuring, administrating, installing, monitoring, security and upgrading SQL database for the organization. He or she performs all the activities related to handling SQL database and is considered as one of the most important personnel in the information technology field of the company. Here at SLA Consultants India, we provide expert and real time SQL Server DBA Training Course to aspirant wants to become a professional database operator and lead a promising career in the field. The SQL Server DBA Certification Program will allow the participants to gain specific knowledge in SQL server and master all the concepts of database administration within a short span of time. The SQL Server DBA Training Course is curated by industry experts which will cover building and maintaining SQL Server Database from the infrastructure standpoint. The candidates after finishing the SQL Server DBA Training will become much aware of all the functionalities of database administrator by working on projects and practical sessions under export supervision. The specialised SQL Server DBA Training Course is targeted towards fresher graduate and working professionals wants to improve their database administration skills. Therefore, take your career to new Heights with our reliable and quality SQL Server DBA Training Course in Delhi NCR, Noida & Gurgaon/Gurugram at once.
The SQL Server DBA Training Program developed by SLA Consultants India is targeted towards Aspiring IT professional who wants to learn database administration and gain comprehension in maintaining a successful database environment, designing database system, implementing and maintaining database, configuring and security of database and much more. The SQL Server DBA Course is intelligently designed to meet the current requirements of the range of topics including blocking and deadlocks, partitioning technique, securing replication, backup and restore technique, log shipping with security, cloning database, import and export using SSIS, query troubleshooting, DB engine tuning advisor, database mail, SMO and BCP, clustering configuration and much more. The SQL Server DBA Certification Training in Delhi NCR, Noida & Gurgaon/Gurugram will begin with SQL Server Architecture and best practices which enriches SQL DBA skill set to the participants and make them proficient in handling performance issues using SQL native tools. At the end of the SQL Server DBA Training, the participants will be able to develop high profile SQL Server Database with required infrastructure, manage SQL server database using multiple product lifecycle environment, configure and maintain database servers including monitoring to ensure high level performance and security, apply data modelling techniques so that implementation and development support made the integration performance expectations, helping developers with rigid query tuning and schema refinement, analysing, solving issues in real time, perform scheduled maintenance and support, and much more.
The SQL Server DBA Training is intended towards anyone who wants to become an SQL Server DBA. There is no specific requirement or background required to attend this course other than having a graduation degree in IT field. Although, some technical knowledge of database would be highly advantages. The SQL Server DBA Training is meticulously designed for both beginners and professionals who are the wants to start their career in database administration or wants to enhance their skill sets to achieve growth in their career. The SQL Server DBA Certification Course would be highly beneficial for SQL developer and administrators, database server professional, database architect, project manager, etc. The participants will be provided with Real-time SQL Server DBA Practical training Sessions to provide in hand expertise in SQL Server DB operation and they will be working on real life projects and assignments to build confidence. We also provide a valid certification at the end of the SQL Server DBA Training with hundred percent job placement assistance to ensure the candidate stays on the right path and achieve success in the career.
A database administrator is considered a very valuable and highly demanding job profiles in the current business market due to the high amount of data generation which needs to be managed effectively in order to take better decisions. And SQL Server Database is a leading relational database management system with exceptional features, which is why the demand for SQL Server DBA is enormous in the market which one can target if gain skill sets in SQL server database management. Please refer to below points in order to know more about why you should learn SQL Server Database:
An SQL Server DBA plays a very important role in the successful organization of a large amount of information, making it a very valuable job profile to follow.
An SQL Server DBA also are very well paid in the current business market as compared to other database administrators. This is because of the fast processing of SQL server which can help in increasing productivity and better decision making.
After acquiring skills in SQL server database management system, you will be able to pursue a career in a number of fields including Banking and Finance, telecommunication, education facility, healthcare, stock exchange and much more.
Since the job of SQL Server DBA allows the business organization to take a relevant and appropriate decision, it is considered one of the most respected and highly recognized job profiles.
There are various job opportunities associated which you can also pursue after acquiring skills in SQL Server DBA which include database administrator, database architect, database professional, database manager, project manager and much more.
There are many more benefits associated with learning SQL server database management system, therefore if you are a graduate and looking to pursue a career in database administration then you should attend SQL Server DBA Training in Delhi NCR from SLA Consultants India as soon as possible. To know more about the course or our Institute please visit our centre in Delhi NCR, Noida & Gurgaon/Gurugram.
Course Duration:
50 HRS with Highly Skilled Corporate Trainers (SQL Server DBA Training) for Modules – Weekdays / Weekend
SLA Consultants India – SQL Server DBA Certification Training Delivery Method:
Web / Desktop Base.
Instructor-Led Classroom Sessions.
Presentations/Demonstration/Practicals of concepts.
Handouts/Assignments/Real-time Exposure to work on Clients.
SQL Server DBA Training Programme Modules
SQL Server DBA Training
SQL Server DBA
Blockings and Deadlocks
Partitioning Techniques
DB Snapshots and usage
Backup Strategies
Restore Techniques
Replication Techniques including RMO
Securing Replication
Log Shipping with Security
DB Mirroring and Troubleshooting
Security Enforcement Performance Tuning
Import and Export using SSIS
Cloning Databases and Objects
Advanced Administration
Certificates and Signatures
Query Troubleshooting
SQL Server Profiler
DB Engine Tuning Advisor
Data Movement Procedures
SMO and BCP
Maintenance Plans
Database Mail
Clustering Configuration and Procedures
Please find the SQL Server DBA course details.
Kindly call us @ 9350319190 for SQL Server DBA course details!
Duration of Module
| SQL Server DBA Course Module | Duration |
| --- | --- |
| SQL Server DBA | 50 Hours |
Batch Timings
| SQL Server DBA Schedule | Timing |
| --- | --- |
| Monday to Friday | 8:00 AM – 10:00 AM |
| Monday to Friday | 10:00 AM – 12:00 PM |
| Monday to Friday | 2:00 PM – 4:00 PM |
| Monday to Friday | 4:00 PM – 6:00 PM |
| Saturday/Sunday | 8:00 | 12:00 | 2:00 | 4:00 |
| Sunday | 8:00 AM – 10:00 AM |
| Sunday | 10:00 AM – 12:00 PM |
| Sunday | 2:00 PM – 4:00 PM |
| Sunday | 4:00 PM – 6:00 PM |