Java Training in Delhi ▷ 100% Job ▷ Live Project ▷ Fresh Batch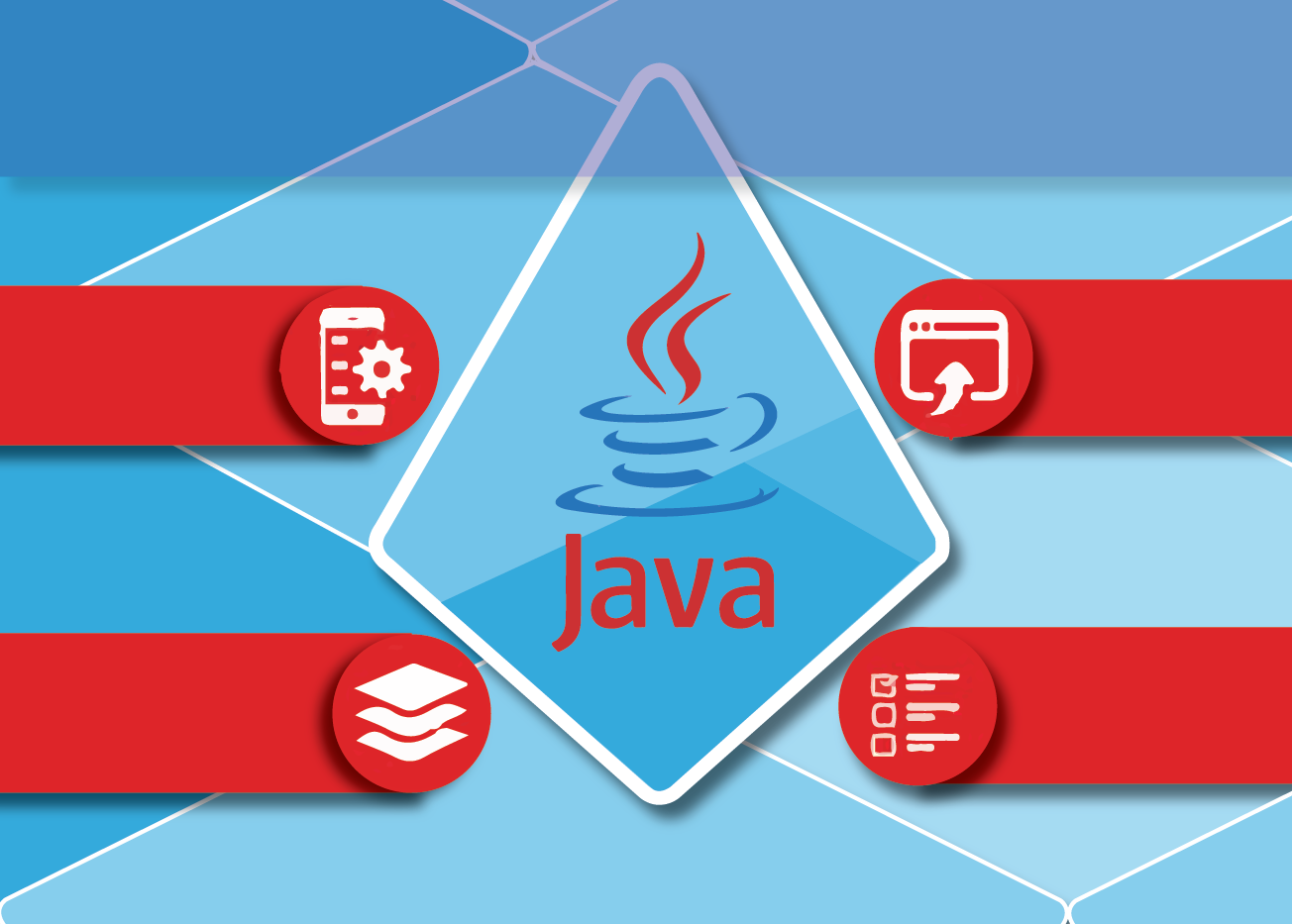 Advanced Java Training in Delhi
Standard for
Mobile
Write once
Run Anywhere
Best for Web
Server-Side
Application
Suitable for
HTML
Interactive Forms
Advanced Java Training Course
Advanced Java Training Course
Java is a fourth generation Object Oriented Programming Language, which is quite simple, robust, platform independent, portable and highly secure web and application. It is used everywhere, from your mobile device to refrigerator and washing machine. It is also one of the most widely utilized web development programming language, which is used by millions of companies all over the world. And it may be very easy to learn, still proper Advanced Java Training is necessary to master this ground-breaking platform and use it in the real world. SLA Consultants India is a leading Advanced Java Training Course provider in Delhi-NCR, Noida & Gurugram/Gurgaon where the students are provided with high quality course module and dependable instructors to make them a professional Java programmer.
Like any other training course, Advanced Java Training Course is designed to allow candidates learn specific skills of Java language in order to create attractive and highly functional web pages and software. The Advanced Java Course introduces Java and its basic features at the start that includes classes and implementation, exception handling and string handling, JDK, Windows programming, multithread programming, I/O streams and networking. Later in the Advanced Java Course in Delhi-NCR, Noida & Gurugram/Gurgaon, the students will be taught of Java's advanced features such as Framework, database programming, RMI, J2EE architecture, UMI, XML, Servlet, servers, design patterns, utilities and much more.
SLA Consultants India possesses some highly educated and trained Java professional who teaches the students about all the incredible features of Java and how it can be implemented to provide better productivity. The Advanced Java Training Course is up to date and can be completed within 2 – 3 months. Any candidate who has some knowledge of programming and aspires to become a professional programmer can join this Advanced Java Course and clear the path to success. This Advanced Java Course can also benefit working professionals who are assigned to their respective companies as a programmer and wish to enhance their programming skills. Other inclusions of the Advanced Java Course include intense and hands-on Advanced Java training, lab sessions under expert supervision, client projects, assignments and 100% Job Assistance with Interview Training. After the completion of the Advanced Java Course, the student will easily be able to get appointed as a Java programmer in any MNCs company.
Any aspiring programmer must learn Java as it is considered as one of the most popular and highly used programming languages in the world. However, other than that, there are several more reasons to choose Java as your career choice, which is as follows.
Java offers better pay scale as compared to any other programming language as Java is very much in demand among both small and large scale enterprises.
The scope of Java is huge even after the arrival of several new programming languages. Many MNC companies are constantly looking for professional Java experts all over the world.
Since Java is Object Oriented programming language, developing applications are quite easier due to its flexibility and extensibility.
It offers powerful web development tools such as Eclipse, Netbeans and Rich API.
Possess a huge collection of open source libraries making Java to be used everywhere.
It is completely free and offers a brilliant community support.
No need to write same codes again and again as its identifier feature allows you to write once and run anywhere.
Java is highly secure and network-centric web / Application development programming language.
With all these exceptional features, Java is considered as the first choice for any aspiring programmer and if you also wish to make a career in Java, then it is highly recommended that you join our Core and Advanced Java Training Course as it will assist you in making a successful career ahead. For more information about the course and our faculty, visit our office in Delhi-NCR, Noida & Gurugram/Gurgaon or take a demo class.
Course Duration:
30 HRS with Highly Skilled Corporate Trainers (Advanced Java Training) for Modules – Weekdays / Weekend
SLA Consultants India – Advanced Java Certification Training & Delivery Method:
Web / Desktop Base.
Instructor-Led Classroom Sessions.
Presentations/Demonstration/Practicals of concepts.
Handouts/Assignments/Real-time Exposure to work on Clients.
NOTE: Classes Are Also Available On Module Basis
Advanced Java Training Programme Modules
Advanced Java Modules
Advanced Java
1. Database Programming Using JDBC
JDBC Drivers
4 Ways of Getting Database Connection
Statements, Callable statement, Prepared statement and their differences.
Metadata, Result Set MetaData, Database MetaData and their differences.
Scroll able & Uneatable Result Set.
Batch Updates.
Data Source & Connection Pooling.
Connection Pooling using Data Source.
Performance increase using Connection Pool.
Row Sets
Transactions (Commit, Rollback, Save point).
2. Introduction to J2EE Architecture
Tier Architecture
Single Tier.
Two Tier.
Three Tier.
N Tier.
3. J2EE Components
Web Components.
Business Components.
4. J2EE Containers
Container Types.
Container Services.
5. Introduction To Uml
Document Type Definition (DTD)
Xml Parsers
Document Object Module (DOM)
Simple API for XML (SAX)
6. Java Servlet
Introduction to Web Programming.
Advantages of Servlets.
Servlet Lifecycle.
Difference between a simple java class and a servlet class.
Request Dispatching.
Types of Session Tracking.
Event Listener.
Filters
File Uploading / File Downloading.
Packages used to develop a Servlet.
Security
Java Server Pages (JSP) & JSTL
JSP Architecture.
Servlet Lifecycle versus JSP Lifecycle
Difference between a Servlet class and a JSP page
What to choose between a Servlet and a JSP
Integration of a JSP and a Servlet in a single application
JSP Elements.
JSP implicit Objects.
Custom Tags.
Using Tags of JSTL.
Expression Language
Exception Handling in JSP.
Embedding core java in a JSP using Scriplets.
Demonstration of a JSP and Servlet in a single application.
7. Utilities
My Eclipse 8.0.
NetBeans 6.5.
9. Application Server
JBoss 4.0, 6.1 & 6.3
Tomcat 7 & 8
Please find the Advanced Java course details.
Kindly call us @ 9350319190 for Advanced Java course details!
Duration of Module
| Advanced Java Course Module | Course Duration |
| --- | --- |
| Advanced Java | 30 Hours |
Batch Timings
| Advanced Java Course Schedule | Course Timing |
| --- | --- |
| Monday to Friday | 8:00 AM – 10:00 AM |
| Monday to Friday | 10:00 AM – 12:00 PM |
| Monday to Friday | 2:00 PM – 4:00 PM |
| Monday to Friday | 4:00 PM – 6:00 PM |
| Saturday/Sunday | 8:00 | 12:00 | 2:00 | 4:00 |
| Sunday | 8:00 AM – 10:00 AM |
| Sunday | 10:00 AM – 12:00 PM |
| Sunday | 2:00 PM – 4:00 PM |
| Sunday | 4:00 PM – 6:00 PM |