Advanced Selenium Testing Training in Delhi, Gurgaon & Noida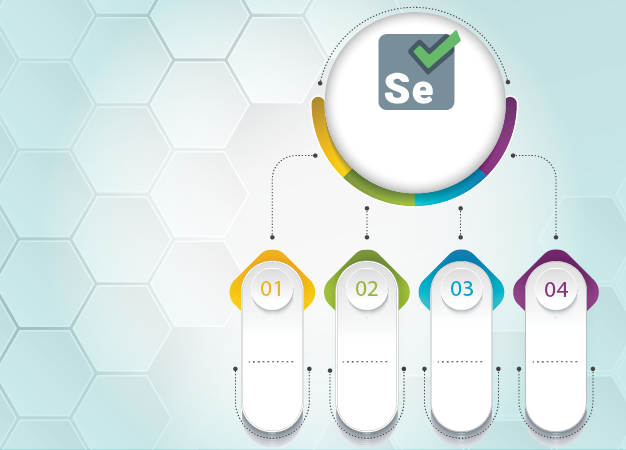 Advanced Selenium
Testing Training Course
Online/Offline
Selenium
Testing
Java
Basics
XML
Files
XLS
Handling
JUNIT
ANT
Selenium
IDE
Web-
Driver 2
Data-Driven
Framework
Web-
Driver 3
Advanced Selenium Training Course
Advanced Selenium Testing Training Course
Selenium is an Open Source software which was developed by SLA Consultants India in Delhi NCR, Noida & Gurgaon/Gurugram and made better by different software technicians through their knowledge and experiments.It carries on testing by using recording, editing and debugging, allowing the coordination across the functions that are to be held responsible (like managers, developers and testers) for particular software or application as their product. Hence, it ought to be perfect from the working point of view, with a sort of finality that does not need correcting because it has certain malfunctions.
Selenium is a highly useful and widely utilized Software Testing tool developed by Jason Hugging in 2004. This Selenium Testing Training Course is specifically designed including vital concepts like Java, Selenium features, Ajax, testing, debugging, building and running test cases, which will enable the participant to garner deep knowledge on how to use the tool to benefit their respective company. SLA Consultants India possesses some great trainers who have immense expertise and experience in teaching that will be responsible for guiding the students to the success. We offer flexible timings, quality lab facility, hands-on experience, latest and competitive course materials and live projects to make sure you become a professional in no time.
We understand that every business organization needs to build innovative and unique web applications and for that Software Testing is one thing they can't overlook. Thus, the scope of selenium is broad and we make sure every student takes this opportunity to get the best out of it. Our Short Term Job Oriented Software Testing Training Coursein Delhi NCR, Noida & Gurgaon/Gurugram will get you the best exposure required to enlist as an expert software tester in any MNC company. The duration of the Selenium Testing course is 2 – 2.5 months and anyone who have the will to learn programming and web development can opt Advanced Selenium Testing Course. Once the Advanced Selenium Testing Webdriver Training Course is finished, the participant can get 100% Job Placement in any of our reputed associated industry for a good salary package.
Since Selenium is free and open source tool, it is used by thousands of organizations, giving a fair amount of opportunity to aspiring programmers and Software Testers.
Supports Ajax and CSS applications in automated testing.
Support testing in multiple browsers and major operating system and contain playback and record facility.
Incredible for GUI Intelligent field selection
Selenium IDE can be used to record scripting languages, which makes it easier for the tester to give commands.
Highly used to create bug reproduction scripts.
Very easy to learn and operate. Anyone with basic web application knowledge can learn Selenium easily.
Perform more work in less time.
Advanced Selenium Testing is a must for every aspiring tester as it would give them needed comprehension and knowledge to crack interviews and perform end to end operations in Software Testing with accuracy. SLA Consultants India provides this Advanced Selenium Testing Course at a very reasonable rate in a very short span of time. We also provide students with access to our 7 Days working admin support and tutorial where they can learn more by clearing their doubts at any time of the day. Thus, if you are looking for a genuine platform to fulfill you dreams of becoming a web developer and tester, then Selenium Training Course by SLA Consultants India is just what you need.
Course Duration: 35 – 40 HRS with Highly Skilled Corporate Trainers
(Selenium Testing Training) for 11 Modules – Weekdays / Weekend
Do you know the solutions of following?
How to design automation frameworks? What are the key considerations, while designing an automation framework?
What are the different automation methodologies?
How object identification works in Selenium and other functional automation tools?
How to build small utilities that will ease your day to day work and distinguish you from other professional.
How build and code management work for Selenium? How maven works for Selenium?
Do you want to just record and playback or want to be a code bee?
How to install, customize and use different tools for Selenium such as Selenium IDE, Web-driver, Eclipse, Maven etc?
What you want to learn, automation or a specific tool such as Selenium or QTP?
If you already know solutions of above questions, then probably you don't need Selenium Testing course. However if not, then become a Selenium and automation expert with us.
SLA Consultants India – Selenium Testing Certification Training Delivery Method:
Web / Desktop Base.
Instructor-Led Classroom Sessions.
Presentations/Demonstration/Practicals of concepts.
Handouts/Assignments/Real-time Exposure to work on Clients.
Advanced Selenium Testing Training Programme Modules
Advanced Selenium Training Course
Please find the Advanced Selenium Testing course details.
Kindly call us @ 9350319190 for Advanced Selenium Testing course details!
Duration of Module
| Selenium Testing Course Module | Duration |
| --- | --- |
| Advanced Selenium Automation Testing Training | 35 – 40(Hours) |
Batch Timings
| Selenium Testing Schedule | Timing |
| --- | --- |
| Monday to Friday | 8:00 AM – 10:00 AM |
| Monday to Friday | 10:00 AM – 12:00 PM |
| Monday to Friday | 2:00 PM – 4:00 PM |
| Monday to Friday | 4:00 PM – 6:00 PM |
| Saturday/Sunday | 8:00 | 12:00 | 2:00 | 4:00 |
| Sunday | 8:00 AM – 10:00 AM |
| Sunday | 10:00 AM – 12:00 PM |
| Sunday | 2:00 PM – 4:00 PM |
| Sunday | 4:00 PM – 6:00 PM |