SAP PP Course ▷ 100% Job ▷ Free Advanced Excel SQL ▷ Online/Offline Certification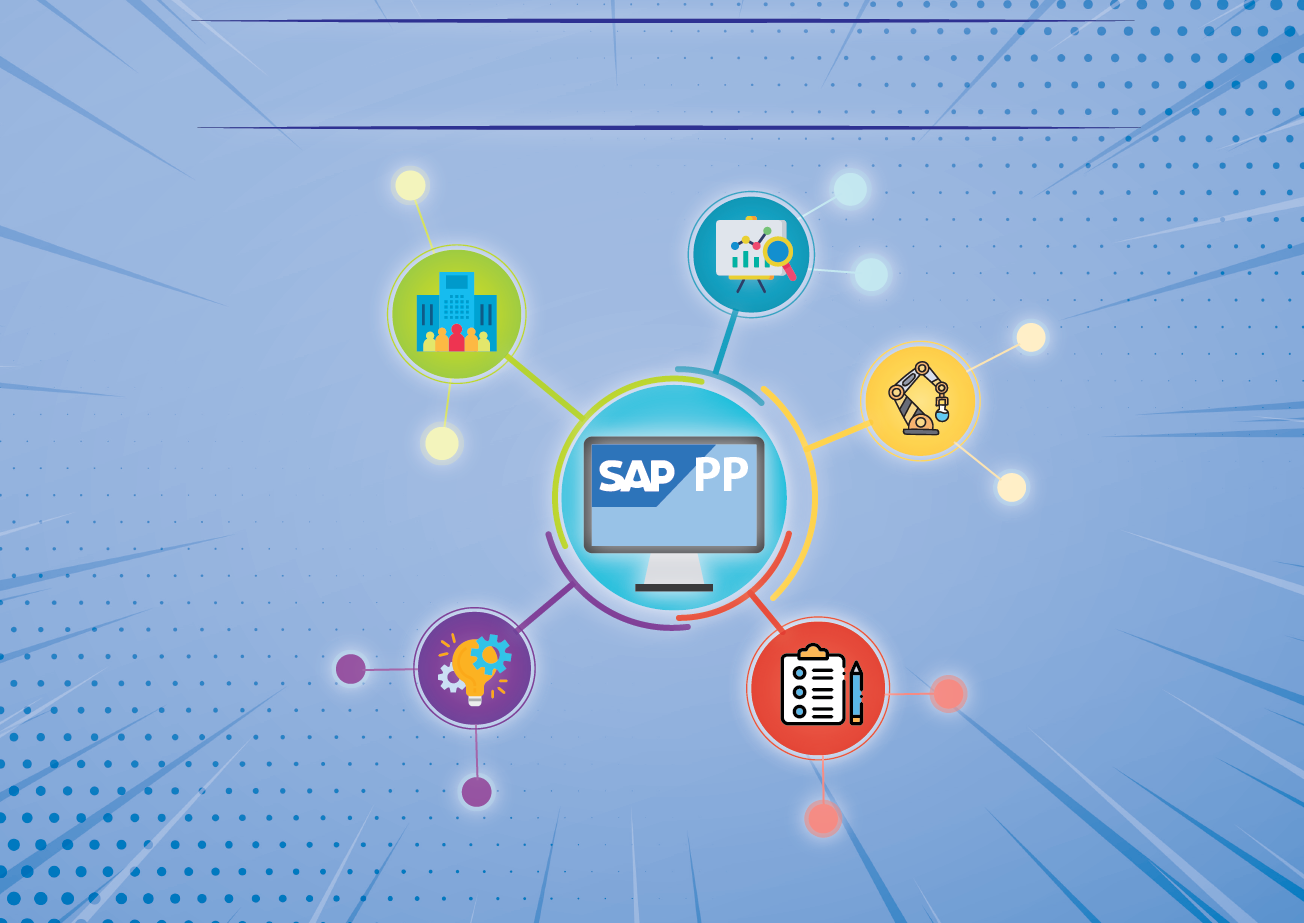 Production
Planning
SAP PP Traning Course in Delhi
Enterprise
Structure
Factory
Calender
Integration with
QM & MM
Integration with
QM & MM
Planning Material
Requirement
Sales & Operational
Planning
Production
Order
Manufacturing
Capacity Planning
Planning
SAP PP Training Course in Gurgaon
SAP PP (Production Planning) Training Course provided by SLA Consultants India in Delhi NCR, Noida & Gurgaon/Gurugram is designed to help the aspiring candidate gain essential comprehension on all the business process related to the production. It is one of the most important modules in SAP which includes the process tracking the manufacturing process flow, material requirement planning, routings, planned costs and actual costs, material management and much more.
The SAP PP Training Course developed by SLA Consultants India Delhi NCR, Noida & Gurgaon/Gurugram is the most appropriate platform for anyone who wants to learn production related business process. The industry-relevant SAP PP course gives the applicant in-depth knowledge on developing planning strategies, market-oriented planning, sales order oriented planning, etc. During the SAP PP Training, the learners will receive valuable information on master planning, sales and operational planning, planning material requirement, batch management, manufacturing and production order, bill of material, routing, production version, planning and execution, demand management and much more. It would allow the applicant to automate some useful activities in the production such as planning to schedule and controlling, allowing the organization to develop and deliver products and services at a very reasonable price.
The SAP PP Training is provided by the very best and most experienced trainers, which helps the learner to understand and practice all the concepts with great insight, enabling them to perform all the above-mentioned activities with ease and accuracy. Anyone with a graduation degree in commerce can pursue the SAP PP Training Course however, students in their last year of college can also attend the SAP PP Training. The Certification in SAP PP will certainly help you to get an exceptional job opportunity at a reputed training firm. It will build your resume as per the current business requirement and attract the recruiters' attention towards your profile over other candidates. The training is filled with other unique features such as online video tutorials, real-time training session under expert guidance, practical training, job-oriented course content, good admin support, workshops and handouts, projects and assignments in the end.
Gaining knowledge related to production and business process can be extremely beneficial for one's career. Business organization all over the world require candidates who have tremendous expertise and skills in managing production planning and perform all the operations related to the process without any difficulty. Learning SAP PP can make you such professional who is highly in demand and help you get an astonishing job opportunity. Some other benefits of learning SAP PP include:
The requirement for production manager is the current business market is great, which is expected to increase rapidly in the upcoming future.
Learning SAP PP can offer you many job profiles to pursue such as consultants and architects, a software professional, project team members, project manager, etc.
The average salary for an SAP PP certified professional is over INR 10,00,000 per annum in India.
The market share for SAP PP is about 19.1%, which showcases its urgency and demand in the market.
The growth opportunities are also incredible in the field as the candidate can become the head manager for the company in a few years of hard work.
With a number of increasing jobs for SAP PP candidates, the candidates shouldn't worry about job security.
Many giant industries such as YASH technologies, Tata Technologies, Akzo Nobel, Accenture, etc. utilize SAP PP.
If you are willing to pursue the SAP PP training course from SLA Consultants India, then please visit our office in Delhi NCR, Noida & Gurgaon/Gurugram. You can also take a free demo class to better understand our trainers, course modules and other aspects.
Course Duration:
40 – 50 HRS with Highly Skilled Corporate Trainers (
SAP PP Training Course
) for 14 Modules – Weekdays / Weekend
SLA Consultants India – SAP PP Certification Training Delivery Method:
Web / Desktop Base.
Instructor-Led Classroom Sessions.
Presentations/Demonstration/Practicals of concepts.
Handouts/Assignments/Real-time Exposure to work on Clients.
SAP PP Training Programme Modules
Module 1 – SAP PP Training Course
Free Offer-Module 2 – Advanced Excel
Free Offer-Module – 3 SQL
Please find the SAP PP course details.
Duration of Module
| SAP PP Course Module | SAP PP Course Duration |
| --- | --- |
| SAP PP | 40 – 50 (Hours) |
| SAP PP + Ad Excel + SQL | 60 – 70 (Hours) |
Batch Timings
| SAP PP Course Schedule | SAP PP Course Timing |
| --- | --- |
| Monday to Friday | 8:00 AM – 10:00 AM |
| Monday to Friday | 10:00 AM – 12:00 PM |
| Monday to Friday | 2:00 PM – 4:00 PM |
| Monday to Friday | 4:00 PM – 6:00 PM |
| Saturday/Sunday | 8:00 | 12:00 | 2:00 | 4:00 |
| Sunday | 8:00 AM – 10:00 AM |
| Sunday | 10:00 AM – 12:00 PM |
| Sunday | 2:00 PM – 4:00 PM |
| Sunday | 4:00 PM – 6:00 PM |
Download SAP PP Course Brochure