GST Course in Delhi ▷ 40+ Hours Advanced GST Practical Training ▷ 100% Job ▷ Mega Offer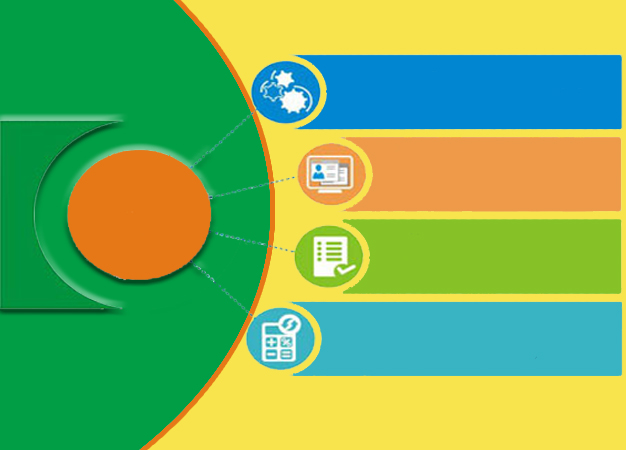 GST
GST Training Course in Delhi,
Noida & Gurgaon
Impact Accessment of GST
on your Business
Adhering to GST Compliance
Migration to GSTN &
Registeration
Customize Accounting System
Updation
GST-Goods & Services Training
GST-Goods and Services Tax Training Course
GST- Goods and Services Tax Training Course
GST is an Indirect Tax, which will certainly affect the inputs and outputs of all the business organisations operated in the country by replacing the current sales and services tax regime. It will be levied on Goods and Services at the end of the sales, rather than on every stage of transfer from one place to another, resulting in a reduction in its price and time of its delivery. This not only reduces the increased burden on manufacturing companies but also allows makes it the less time-consuming process of Finance and Accounts department.
SLA Consultants India has taken this opportunity to assist candidates who aspire to become a tax consultant and work on maintaining the finances of the companies by accurately computing the Goods and Services Taxes along with other forms of tax. We have developed a remarkable GST Weekend Training Course in Delhi NCR, Noida and Gurgaon/Gurugram, for such candidates who are either looking to enhance their tax consulting skills and looking to start a career in business and finance field. Nevertheless, learning about GST is one thing every person of Finance and Tax field must be acquitted and with our highly trained and professional Chartered Accountants helps you gain just the knowledge necessary to reach out to their dreams of becoming one of the most important personnel in the financial sector of a reputed firm.
The GST Course is the foremost training programme offers rigorous Training in GST Advanced concepts, located in Delhi NCR, Gurgaon/Gurugram and Noida and provides the platform for the exchange of tax knowledge to the participants and upgrade their skills and comprehension for their professional career. SLA Consultants India has designed this specialised GST course for students who lacks confidence in their skills of pursuing the career of their dreams. The GST classes are conducted on weekends, which offers flexibility to the participants who don't have to adjust their office or college timings in order to attend the classes in Delhi NCR. The best thing about this 40 hours durable course is the candidates will receive the insights and knowledge on Goods and Services Tax from reputed and admired Chartered Accountants with years of industry experience. You will gain exceptional expertise on tax processing and analysis, which will increment your chances of acceptance in a business firm for the role of tax consultants.
The job-oriented Goods and Services Tax Training Course is eligible for candidates with a Graduate degree from a reputed university or equivalent. A certificate or diploma in taxation would also be preferred to attend the course along with strong communication and interpersonal skills. During your stay in our training institute in Delhi NCR, Noida and Gurgaon, you will receive deep insight on topics such as Introduction to GST and its importance, GST Migration and Registration, Returns under GST section 37-48, Refunds, Input tax credit, electronic commerce in GST, laws and penalties, job work and composition levy, Model IGST law and other important topics. Goods and Services Tax course is especially beneficial for working professionals who are currently appointed in the finance sector of the company and willing to improve their status by contributing more and in a quality fashion. At the end of the training, you will receive certification that will put weight on your resume and amplify your chances of getting a job.
India's decision of deploying GST in the market will see a great change in the country's economy. This would make the process of supplying the Goods and Services to the end user easier and reduce a considerable time and price of the commodity. However, one of the best ways Indian economy could benefit from this move is the rise of opportunities of GST operators and tax consultants and students looking to pursue this career can benefit from this extensive course to solidify their chances of achieving their goals. Other important reasons why you should learn GST are as follows:
High job opportunities: There is a huge demand for tax practitioners and tax consultants after the decision of employing GST.
Less competition is the market: There are fewer candidates who pursue the career of tax consultant which also increases your chances of acquiring the relevant job due to less competition.
Different roles: Learning GST can not only help you become a tax consultant, but also open much more job roles in the accounts and finance field. Aspiring tax practitioners, agents, tax managers, personnel in the finance department and operation department can also benefit from Goods and Services Tax course.
High pay scale: One of the most motivating reasons to pursue a career in GST is the pay scale offered, which is incredible as compared to other job profiles in the field.
Better growth opportunity: Becoming a tax consultant gives you a fair idea of business processes, the importance of resources, identifying major issues in the finance sector, which also increases the chances of growth in a quick span of time.
Own business: If you don't wish to work for other companies, then you can also start your own consultancy firm and offer your valuable advice to individuals and firms on GST functions. You also won't require hiring a personnel for your tax processing that can help you save greatly.
Learning these benefits of pursuing GST Certification Training Course in Delhi NCR, Noida and Gurgaon/Gurugram would surely strengthen your desire to become a tax consultant. If you want to learn more about GST and how you can benefit from it for a long term, then visit our office in Delhi, Noida or Gurgaon and give us a call.
Course Duration: 50 – 60 (Hours) with Highly Skilled Corporate Trainer
2-3 CA Expert Trainers – Only Weekend Sessions
SLA Consultants India – GST in the Practical Training and Delivery Method:
Web / Desktop Base.
Instructor-Led Classroom Sessions.
Presentations/Demonstration/Practicals of concepts.
Handouts/Assignments/Real-time Exposure to work on Clients.
GST-Goods and Services Tax Programme Modules
GST-(Goods and Services Tax) Training Course