Oracle Certification ▷ Oracle DBA Course ▷ 100% Job ▷ SLA Institute, Delhi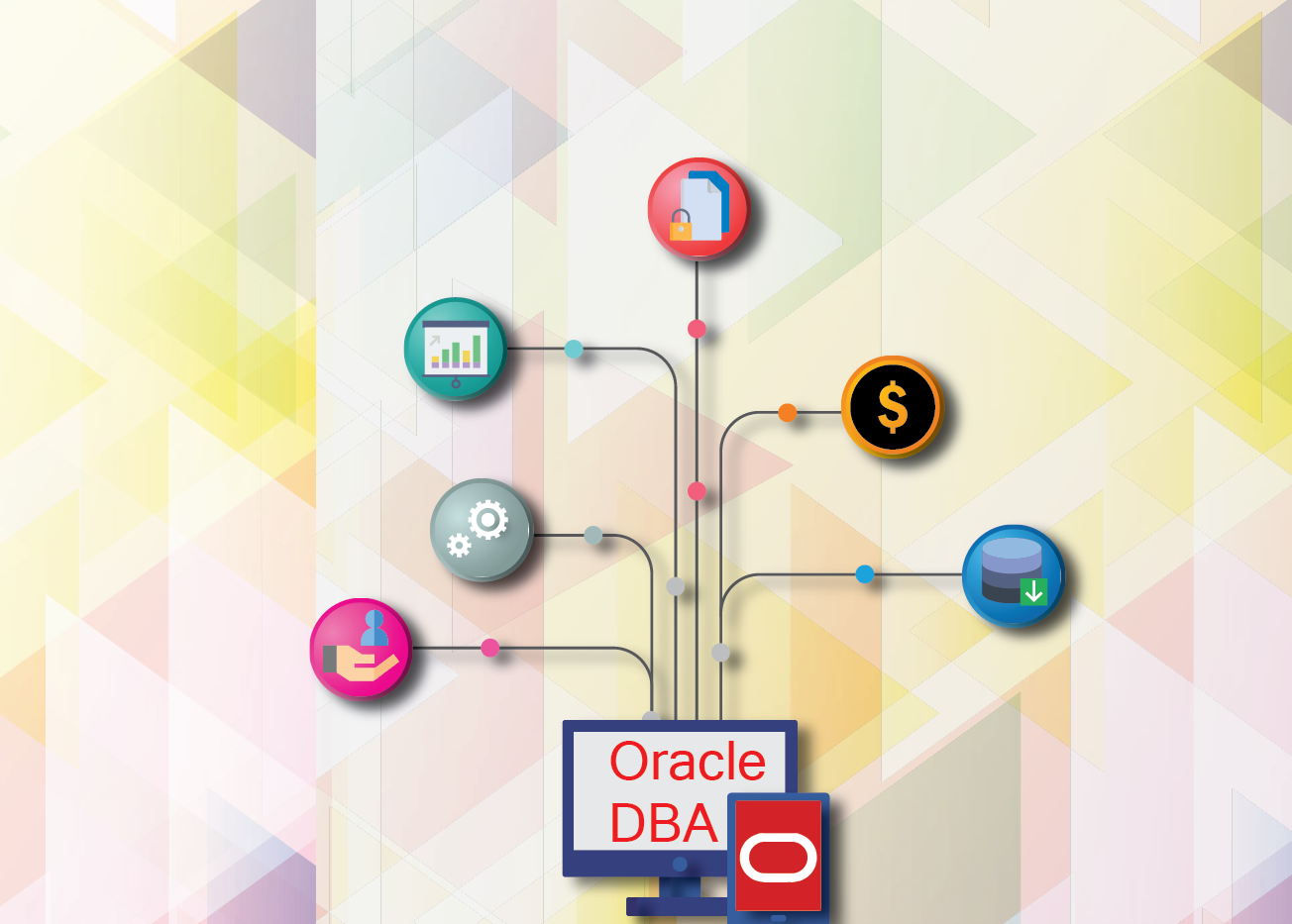 Oracle DBA Training Course in Delhi
Data Security
Performanance
Optimization
Proactive
Management
Data
Monitoring
Licence
Otimization
Database
Oracle DBA Training Course
Oracle DBA Training Courses
Oracle Database Administrator or simply Oracle DBA Training Course designed by SLA Consultants India for absolute beginners who want to learn the basic concepts of relational database management system in order to become a professional Oracle DBA in their career. It is considered one of the most powerful and responsible positions in any business organization as it deals with creating, updating and deleting vital information from the database of the company to help the management take effective decisions easily. The Oracle DBA Training Course is targeted towards Aspiring database operators in Delhi NCR, Noida & Gurgaon/Gurugram and offer the most unique and innovative features which are not available at any other IT Training Institute.
Oracle is considered the finest and sophisticated Database Management System used by millions of organization all over the world for managing their unstructured data and representing it in a proper fashion. It is used to store and retrieve related information which can be highly beneficial for business organizations to collect and analyze information such as customer data, banking and finance, etc and thus, acquiring skills and expertise in Oracle database can help you start your career on a High Note. SLA consultants India brings you the best platform to achieve your dream of becoming a professional Oracle DBA through our highly Advanced and quality Oracle Database Administration Training Course provided in Delhi NCR, Noida & Gurgaon/Gurugram. The Oracle DBA Course will provide high end and exclusive knowledge of Oracle database system along with its remarkable features and functionalities using the most innovative techniques. The course will cover various topics of the database system which include installation and configuration, creating database design and script, managing database storage structures, administering user security, backup and recovery, database network, performing flashback, recovery manager, and much more.
The quality Oracle DBA Training intends to give a better understanding of Oracle Database Server Administration along with its architecture, database structures, security, schema objects and database recovery to the learner and make them a proficient database operator in the future. After the completion of the Oracle DBA Certification Course, the participants will be able to perform their duties and responsibilities as an Oracle DBA which includes database configuration and programming, storage management and cloud harnessing, configuring Oracle network and integrating with other database tools. The Oracle DBA Training is highly beneficial for not only the pressures, but working professionals such as software developers, database analysts and administrators, project managers, SQL programmers and architects and others can also attend the Oracle DBA Course to improve their database management skills. All the concepts of Oracle DBA will be taught by qualified and experienced instructors who utilize the most relevant and Job-oriented Oracle DBA Course Curriculum. Other important features of the course include Real-time Oracle DBA Practical Training, hands-on expertise, projects and assignments, workshops and handouts, online tutorials and support, outstanding administration support and 100% Job Placement Assistance.
Oracle DBA is one of the most sought after and highly demanding job profiles and current business market as it involves collecting and analyzing the most important resource for any business industry which is information. An Oracle DBA is a position of senior-level manager who is paid highly due to the heavy responsibility and significance it holds for the entire company. If you are thinking of pursuing a career in database management field, then you must have knowledge and expertise in Oracle Database Management as well. Some of the reasons you must learn Oracle database are as below:
Oracle Database is considered as the leader in relational database tools with at least 48% of market share.
Oracle DBA is one of the highest paying jobs in Indian market with an average salary of Rs. 481,767 per year. As per the skills and experience increases in the field which involve performance, oracle e-business Suite, shell scripting, etc.
The role of an Oracle DBA is both challenging and rewarding as they are responsible for managing a high volume of data. This will ensure high job security and value within the organization.
Acquiring Oracle DBA skills would make you a highly demanding professional in the market, especially in large Enterprises where the requirement for a professional Oracle DBA is huge. This ensures high payment and respectability at a large firm.
Acquiring Oracle database skills is also beneficial for Aspiring entrepreneurs as they will be able to collect and velvet related information efficiently, allowing them to save time and money.
With all these reasons, no wonder most of the college graduates are not pursuing Oracle DBA Training Course in order to acquire extensive knowledge of Oracle Database and start a promising career in the field. If you are also one of those candidates and looking for a right platform to start your database career, then visit SLA consultants India in Delhi NCR, Noida & Gurgaon/Gurugram or give us a call.
Course Duration: 50 HRS with Highly Skilled Corporate Trainers
(Oracle DBA Training) for Modules – Weekdays / Weekend
SLA Consultants India – Oracle DBA Certification Training Delivery Method:
Web / Desktop Base.
Instructor-Led Classroom Sessions.
Presentations/Demonstration/Practicals of concepts.
Handouts/Assignments/Real-time Exposure to work on Clients.
Oracle DBA Programme Modules
Oracle DBA
Please find the Oracle DBA course details.
Kindly call us @ 9350319190 for Oracle DBA course details!
Duration of Module
| Oracle DBA Course Module | Duration |
| --- | --- |
| Oracle DBA | 50 Hours |
Batch Timings
| Oracle DBA Course Schedule | Course Timing |
| --- | --- |
| Monday to Friday | 8:00 AM – 10:00 AM |
| Monday to Friday | 10:00 AM – 12:00 PM |
| Monday to Friday | 2:00 PM – 4:00 PM |
| Monday to Friday | 4:00 PM – 6:00 PM |
| Saturday/Sunday | 8:00 | 12:00 | 2:00 | 4:00 |
| Sunday | 8:00 AM – 10:00 AM |
| Sunday | 10:00 AM – 12:00 PM |
| Sunday | 2:00 PM – 4:00 PM |
| Sunday | 4:00 PM – 6:00 PM |