Oracle Developer Course ▷ Online/Offline Certification ▷ Free Demo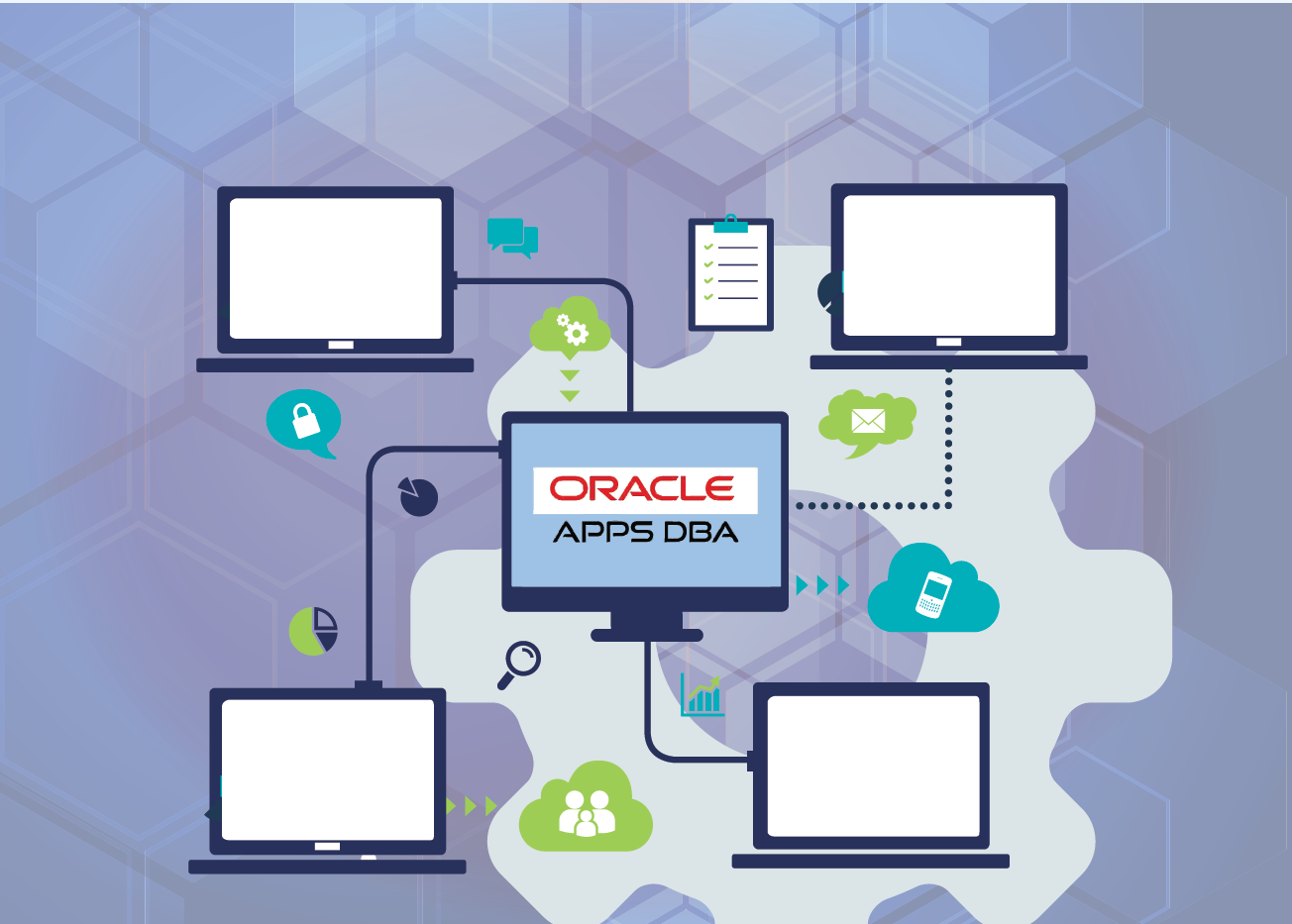 Oracle Apps DBA Training in Delhi
Application
Install
E-Business
Suit
Architecture
Oracle
Application
AD Utilities
Patch
&
Maintain
Oracle Apps DBA Training Course
Oracle Apps DBA Training Course
An Oracle Apps DBA is an important personnel in business industry who possess specific expertise in Business Administration and operating Oracle application server architecture. An Oracle Apps DBA also have skills and abilities in database design, Oracle applications such as CRM, ERP and SCM with functional expertise. His job involves around Oracle e-business suite which is a complex framework that perform fundamental Business Administration in Oracle. Oracle Application Database Administration Training Course or simply Oracle Apps DBA Training provided by SLA Consultants India, which is a specialized Oracle Apps DBA Training Course primary focus in providing promising placement to the participants. We offer end to end comprehension and expertise in Oracle applications with theoretical and practical sessions and highly advanced and updated Oracle Apps DBA course material is perfectly crafted by industry expert to fulfil the current business requirements. The Oracle Apps DBA Training in Delhi NCR, & will provide comprehension on innovative ideas, internal concept and other advanced aspects of applications DBA to allow the participants gain industry relevant database administration skills and acquire a promising job opportunity at any business organisation. The 50 hours Oracle Apps DBA Certification Course offers Real-time and Placement Oriented Oracle Apps DBA Training with well equipped and modern lab facilities and instructed let classrooms to give in depth and valuable insight in Oracle DBA applications to the candidate and help them pursue their dream. Therefore, if you have received your graduation in IT field and wants to pursue a prominent career in database administration, then you must join our well crafted Oracle Apps DBA Certification Course in Delhi NCR.
Oracle Apps DBA Job-oriented Certification Training Course, which consists of updated course curriculum and syllabus which is designed keeping in mind the industry requirement and markets in audios that empowers the participants to become highly skilled and job ready after finishing the Oracle Apps DBA Course. We are considered as the leading Oracle Apps DBA Training provider in Delhi NCR, & who target both fresher and working professionals looking to gain or enhance skills in Oracle DBA and applications. The Oracle Apps DBA Training Program is specifically targeted towards aspiring Database Administrator, IT professional, Software Engineers, Data Analyst, etc. We also consist of a team of a highly certified expert with over 10 years of experience and recognition in the field which enables the participants to become an industry ready professional through Real-time Practical Oracle Apps DBA Training Sessions and project and assignment on Real world scenarios. During the Oracle Apps DBA Certification Training, the participants will receive knowledge in various elements such as R12 Oracle application install, R12 Oracle e-business suite architecture, R12 use Oracle applications AD utilities, R12 patch and maintain Oracle applications, R12 system administrator fundamental and other advanced features. After completing the training, the participants will be able to perform various job responsibilities of an Oracle Apps DBA which include maintaining and supporting multiple Oracle databases and applications, performing RMAN configuration, backup and cloning, installing and updating database and application, implementing sysadmin task, performing database and application check up, developing and managing tablespaces, monitoring data file spaces, troubleshooting concurrent manager issues, Apache issues, performance tuning and much more.
At SLA Consultants India, we give utmost important to all our participants by giving them in depth subject knowledge using handouts and workshops, give free trial classes to the candidates who want to attend the Oracle Apps DBA Training Program, equipped with advanced lab facilities, and offer 100% Job Placement Assistance to the candidate allowing them to have a competitive edge during the interview. We also award the candidates with a valid Certification in Oracle Apps DBA so that they can become a certified professional and gain respect and recognition in the field. Therefore, choose our Fast Track Oracle Apps DBA Certification Training Classes and become a professional which is highly demanded in the business market.
An Oracle Application Database Administrator is a very popular and recognized job profile in the IT field which is certainly the most obvious reason why you should also learn Oracle Apps DBA. Every business organization required to collect and manage a large amount of data for which they require professionals. Getting an Oracle Apps DBA Certification would certainly make you an in-demand professional. Other various reasons why you should attend Oracle Apps DBA Training are as below:
There is an exceeding demand for expert Oracle Apps DBA in the business market due to the increasing utilization of Oracle database management system in various organizations worldwide.
A number of job opportunities in Oracle Apps DBA is expected to increase greatly in the upcoming years. Thus, you can enjoy better job security and job opportunities which you can target to lead a successful career.
Many business organizations including MNCs constantly seek professional Oracle Apps DBA to handle their large amount of data in an effective manner. Thus, you can also acquire a promising job opportunity at any MNC which will certainly be a long step towards a successful career.
An Oracle Apps DBA also received in high pay scale which is far greater than other database administrators.
Business organizations can also benefit by sending their employees for Oracle Apps DBA Training in Delhi NCR as they will acquire highly essential skills which will be beneficial for increasing the productivity of the company.
If after learning all these benefits, you want to move your career towards database administration, then the first step you should take is to join our reliable and industry standard Oracle Apps DBA Certification Course in Delhi NCR as soon as possible. If you have any queries for questions that you wish to be resolved, then please visit our Centre in Delhi NCR, & .
Course Duration:
50 HRS with Highly Skilled Corporate Trainers (Oracle Apps DBA Training) for Modules – Weekdays / Weekend
SLA Consultants India – Oracle Apps DBA Certification Training Delivery Method:
Web / Desktop Base.
Instructor-Led Classroom Sessions.
Presentations/Demonstration/Practicals of concepts.
Handouts/Assignments/Real-time Exposure to work on Clients.
Oracle Apps DBA Training Programme Modules
Oracle Apps DBA Training
Please find the Oracle Apps DBA course details.
Kindly call us @ 9350319190 for Oracle Apps DBA course details!
Duration of Module
| Oracle Apps DBA Course Module | Course Duration |
| --- | --- |
| Oracle Apps DBA | 50 Hours |
Batch Timings
| Oracle Apps DBA Course Schedule | Course Timing |
| --- | --- |
| Monday to Friday | 8:00 AM – 10:00 AM |
| Monday to Friday | 10:00 AM – 12:00 PM |
| Monday to Friday | 2:00 PM – 4:00 PM |
| Monday to Friday | 4:00 PM – 6:00 PM |
| Saturday/Sunday | 8:00 | 12:00 | 2:00 | 4:00 |
| Sunday | 8:00 AM – 10:00 AM |
| Sunday | 10:00 AM – 12:00 PM |
| Sunday | 2:00 PM – 4:00 PM |
| Sunday | 4:00 PM – 6:00 PM |