SQL Course ▷ MS Access Certification ▷ 100% Job ▷ Free Python Data Science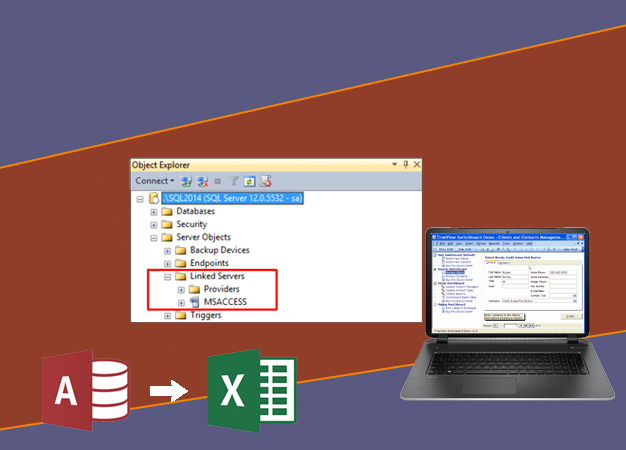 MS-Access & SQL Training in Delhi, Noida & Gurgaon
MS Access Training
Macros in Access
Switchboard in Access
SQL Reporting & Analysis Course
MS-Access & SQL Training Course
SQL & MS-Access with Free Overview of ( R / Tableau )
MS Access and SQL Training Course is a database management training program awarded by SLA consultants India to learners in Delhi NCR, Noida & Gurgaon. The MS-Access & SQL training will enable the participants to gain specific and relevant information about relational database management and will be able to store, retrieve and manage a large amount of data with no difficulty at all. The MS-Access & SQL training will deliver specialized knowledge and skills to the learner allowing them to create reports and analyze data efficiently using MS Access and SQL Database Management System which are considered the most popular and reliable database tools. Thus, if you want to pursue a promising career as a data analyst, then join our exceptional training in Delhi Noida & Gurgaon/Gurugram.
The MS Access and SQL Training Program is designed to teach the participants various duties and responsibilities of a data analyst and fulfill the current and future requirements of the business organization when it comes to storing and evaluating a large amount of similar data. There are various MS Excel which is an Expendable tool for maintaining and calculating small sets of information. However, computation and reporting of a large amount of data can be very challenging through MS Excel tool as it can lead to possible errors. This is why it is highly recommended to use RDBMS tools and MS Access and SQL are considered the best in the field. Structured query language, or simply SQL, refer to the programming language which is used for communicating with relational database tools and perform various functions related to the database. By utilizing both MS Access and SQL together, the user can easily perform various functions such as creating table, storing and updating information, developing queries, reports and forms, building database using templates, developing relationships with other tables, creating and designing access database solutions, integrating with other database systems and maintaining security to the database.
The MS Access and SQL training is intended towards both fresher learners and working professionals who want to build and improve their knowledge and skill sets in developing an encouraging database using Microsoft Access. There aren't any eligibility requirement to join the MS Access and SQL training other than having a graduate degree in any field. There are various topics that will be covered in this Short-Term Job-oriented MS-Access & SQL Training Course in Delhi NCR, Noida & Gurgaon/Gurugram which includes developing rows and columns, fundamentals of SQL, relationship in SQL, explaining SQL strings, numbers and SQL, SQL functions and clause, SQL triggers, subselects and views in SQL, maintaining SQL server database, developing database using MS Access, Macros, data migration and importing, and much more. All of these topics will be taught by highly experienced and certified trainers using the most updated and relevant course curriculum. Furthermore, real-time MS Access and SQL practical training sessions are provided to the participants to enhance their working experience along with giving projects and assignments of real companies. Some of the best features of the MS-Access & SQL training flexible batch timings, hands-on expertise, workshops and handouts and 100% job placement assistance. The applicants will be provided a valid MS-Access & SQL course certification that would help them secure a promising job in the field after completing the MS Access and SQL course.
Microsoft Access is a database management system which is used by millions of users and business organizations all over the world due to the various benefits associated with it. These benefits include its flexibility, easy to use and implement and massive features which allow the user to perform database management a lot easier. The importance of handling a large amount of data cannot be ignored by various organizations as it helps the company to identify the market conditions and the behavior of the customers and develop necessary strategies to increase their productivity and revenue. This is why they seek highly skilled and professional candidates who can perform Database Management operations with efficiency and accuracy. Therefore, learning MS Access and SQL can truly help you to secure a promising career in the field. Some other benefits of learning MS Access and SQL include:
Most business organizations of large-scale utilize Microsoft Access and SQL in order to manage their similar data. Having adequate skills in MS Access could help you become a valuable professional in one of these reputed organizations.
Microsoft Access allows the user to develop reliable applications using comprehensive programming languages such as SQL and Visual Basic for application.
MS Access and SQL are also cheaper than other large database systems such as Oracle. It also contains a large online community where you can resolve your queries regarding the tool.
After acquiring certification in MS Access and SQL, you will be able to become one of the highly salaried employees in your organization what is the average salary of an MS Access operator in India is Rs. 349 282 per year.
You will play a very important role in the decision-making process of the company as the management will study the reports you have created from your data analysis. This will increase your worth in the organization and give you exceptional job growth opportunities.
Thus, join our dedicated training course for MS Access and SQL to give your career the best possible start. For more information, please visit our center in Delhi, Gurgaon/Gurugram or Noida.
MS-Access & SQL Training Course with Interview Guarantee
Our Trainer:- 10+ Years of industry experience as a MIS Manager in MNC, Education:- B.Tech
Course Duration: 25 – 30 (Hours) with Highly Skilled Corporate Trainers
(MIS & Data Analytics in Excel Training) for 5 Modules – Weekdays / Weekend
SLA Consultants India – MS-Access & SQL Training Course Delivery Method:
Web / Desktop Base.
Instructor-Led Classroom Sessions.
Presentations/Demonstration/Practicals of concepts.
Handouts/Assignments/Real-time Exposure to work on Clients.
NOTE: Classes Are Also Available On Module Basis
MS-Access & SQL Programme Modules
Free – Any One (Python Overview/R Programming /Tableau /Power BI)