✅ GST Training Course ▷ #1 GST Institute in Delhi, NCR ▷ Best Practical GST Classes by CA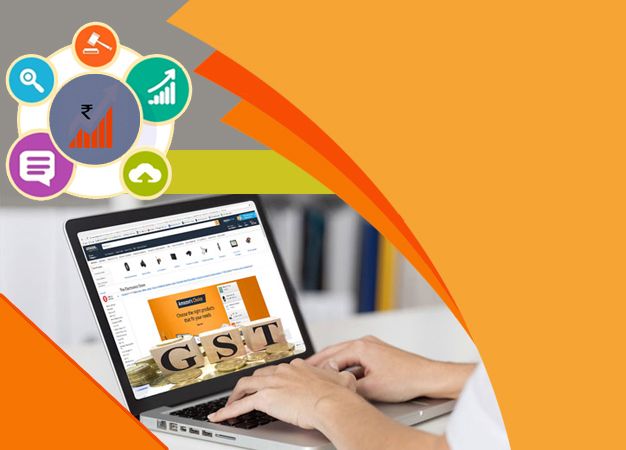 GST+ITR+TDS
GST - Goods & Services Tax
In Delhi, Noida & Gurgaon
Accounting & Taxation Certification Training Course
Income Tax/TDS
Finalization of Balance sheet/
preparation of Financial Statement
Banking & Finance
Customs/Import & Export
Apply For Free Demo ▷ GST Course
#1 GST Course & E-Accounting Training
E-Accounts, E-Taxation and E-GST Training Course designed by SLA Consultants India for aspiring Business Accountants and Tax Professionals. The E-Accounts and E-GST course allows the learners to perform several Accounting and Taxation functionalities using computer-based technology and web-based tools. E-Accounts, E-Taxation and E-GST Training Course is dedicated to help learners to attain in-depth comprehension of Accounting and Taxation system in a short span of time and at a very reasonable fee. SLA Consultants India is known to be the Best E-accounting and E-Taxation Training provider in Delhi, Noida and Gurgaon/ Gurugram, Noida and NCR, having over eight-plus years of experience in delivering the very best results. Our highly trained Chartered Accountant are industry based experts with great experience will help the participants become a tax professional and grab a brilliant job opportunity soon after the E-Accounts and E-GST course.
This is a specialized course to develop wealthy skills in the field of Accounts, Finance, Banking and Taxation. The E-Accounts and E-GST course will cover various aspects of these fields that include finalization of the balance sheet and financial statement, custom and excise, import and export procedures, income tax and TDS, Goods and Services Tax. All these modules will be taught by a team of practised chartered accountants, who will assist the participants in garnering deep knowledge of every concept so that that utilize it well when the time arrives.
Anyone with a Graduation degree can join E-Accounts and E-GST course, however, corporate employees, business owners, tax consultants and accounting managers can also pursue the E-Accounts and E-GST course to enhance their skills and expertise. SLA Consultants India provides E-Accounts and E-GST training in Delhi NCR, Noida and Gurgaon/Gurugram location, all the needed tools and equipment's required to teach the participants to perform the duties of an Accountant and Tax consultants using technical elements. Other than possessing industry standard trainers, we also offer an outstanding learning environment, updated, job-oriented and competitive course material, live training sessions under expert guidance, client's projects and assignment and 100% job placement assistance. After the completion of the E-Accounts and E-GST course, the participants can pursue a promising career as a tax consultant or a Chartered Accountant in any reputed firm and perform their duties with full efficiency and confidence. You can choose flexible batch timings as per your preference as well.
Learning E-Accounts, E-Taxation and E-GST Course will not only help you gain the momentum and comprehension needed to acquire a decent job opportunity in an enterprise, but it will also allow you to earn a higher income. Below are provided some thought provoking and understandable reasons why should follow an E-Accounts, E-Taxation and E-GST Training Course after completing your graduation.
Many students don't have any idea what to do Course after graduation in commerce. Pursuing an E-Accounts, E-Taxation and E-GST course will bring them to the right path and give their career a meaningful appearance.
You can choose to become a tax advocate, tax consultant, Business Accountants and Tax Professionals in any well-established firm.
The demand for tax consultants and accountants are huge in the market as every company, no matter the scale, requires suitable candidates for these job profiles to handle their financial matters.
Since the demands for these job profiles are huge, you can earn a great income and have no worries about finding the appropriate job opportunity, thus giving you job security as well.
You will also be able to find freelancing projects and earn extra income just by working at home. You can search for a freelance accountant and freelance tax consultant jobs online.
The course will allow you to grasp important knowledge of Indian taxation system along with several company acts, which will be extremely beneficial for you when you open your own firm.
Well, now you understand why you should probably attend this short term job-oriented GST course from SLA Consultants India. If you still have any doubts or questions that you want answers of, then feel free to give us a call 9999491895 or visit our training institute in Delhi NCR, Gurgaon/Gurugram, and Noida. We will be more than obliged to help you understand the importance of this course.
Course Duration:
80 – 100
HRS with Highly Skilled
5 – 6
Corporate Trainers 2-3 CA Expert Trainers for
5
Modules
SLA Consultants India – E-Accounts and E-Taxation (E-GST) Practical Training Delivery Method:
Web / Desktop Base GST Course & Income Tax Training.
Instructor-Led Classroom Sessions For GST Course.
Presentations/Demonstration/Practicals of concepts/2 Projects.
Handouts/Assignments/Real-time Exposure to work on GST Data.
NOTE: Classes Are Also Available On Module Basis
E-Accounts and E-GST Course Modules
E-Accounts, E-Taxation and (Goods and Services Tax) GST Training Courses
Please find the E-Accounts and E-GST course details. Classes and Course can be designed/customize as per request
Duration of Module
| Accounts and GST Course Module | Accounts and GST Course Duration |
| --- | --- |
| Module 1 – 2 | 60 – 70 (Hours) |
| Module 1 – 5 | 80 – 100 (Hours) |
Batch Timings
| Accounts and GST Course Schedule | Accounts and GST Batch Timing |
| --- | --- |
| Monday to Friday | 8:00 AM – 10:00 AM |
| Monday to Friday | 10:00 AM – 12:00 PM |
| Monday to Friday | 2:00 PM – 4:00 PM |
| Monday to Friday | 4:00 PM – 6:00 PM |
| Saturday/Sunday | 8:00 | 12:00 | 2:00 | 4:00 |
| Sunday | 8:00 AM – 10:00 AM |
| Sunday | 10:00 AM – 12:00 PM |
| Sunday | 2:00 PM – 4:00 PM |
| Sunday | 4:00 PM – 6:00 PM |