PHP Course ▷ 100% Job Guarantee ▷ Fresh PHP Batch ▷ Online/Offline ▷ SLA Training Institute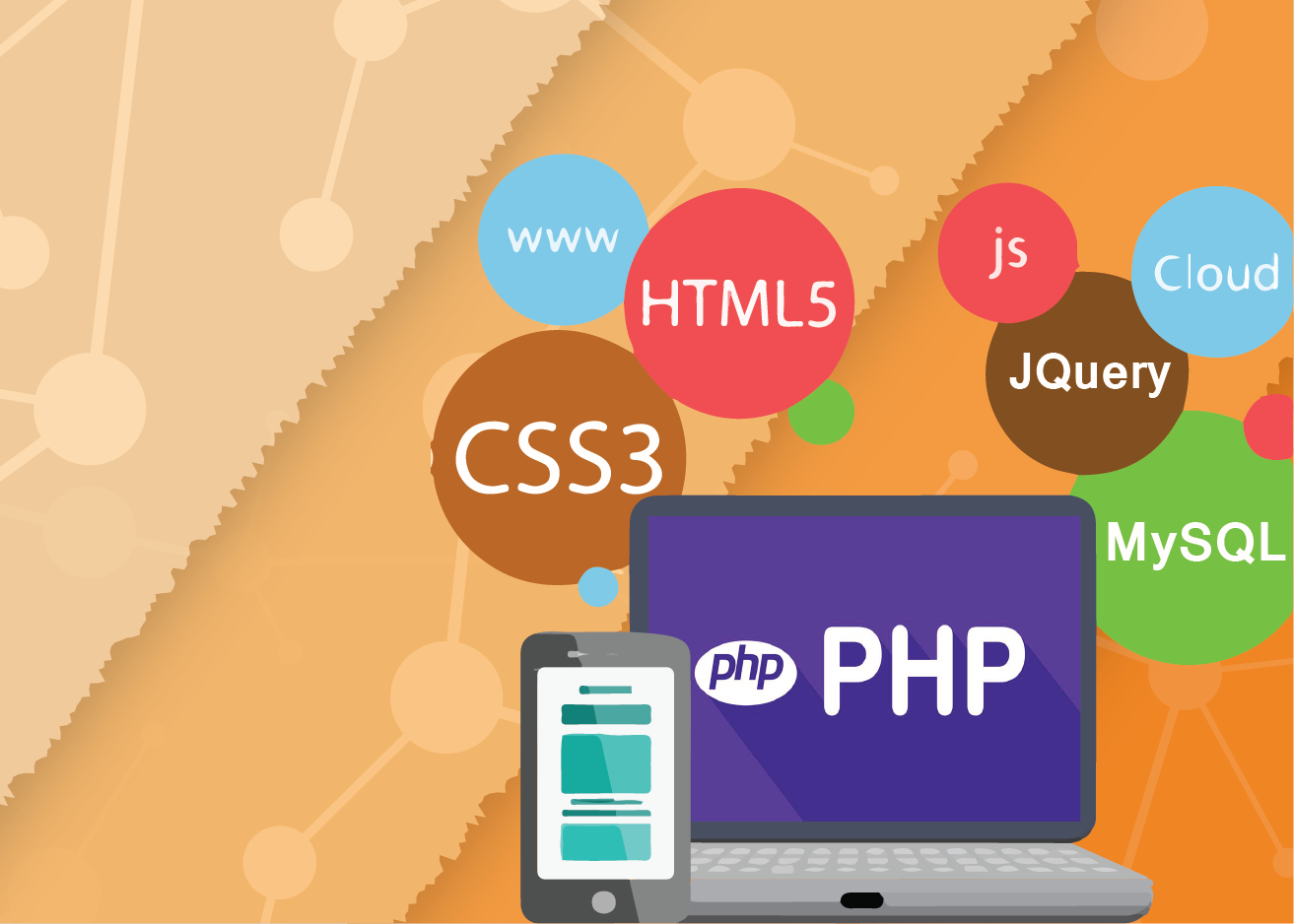 Basic PHP Training Course in Delhi NCR
PHP Developer-2 Projects
Live Project PHP Course ▷ Free Demo
Basic & Core PHP Training Course
PHP is known as an open source, Object-oriented and interpreted server side scripting language which is widely utilized for developing a dynamic page and single web applications. It consists of various innovative features which makes it a widely utilized technology in web development which include its high simplicity, remarkable efficiency, security, familiarity and flexibility. PHP language have been updating on a regular basis, providing more flexible features to the user, allowing them to perform web development and creating Web page Applications without any issues. It is highly case sensitive scripting language along with having a platform independent tool which can easily be operated on Linux, Mac OS, UNIX and Windows. It is much faster than any other scripting language such as ASP and JSP, and since it is an interpreted programming language there is no requirement for compilation. With continuous advancement in the technology and competitive era also provided significant changes and modification in programming platforms and made PHP one of the leading and highly appreciated Web Application Development tool in the world. Due to all these reasons, PHP is the most preferred programming language among students and aspiring web developers due to its simplicity. Any professional or college student wants to pursue a career in the web development field choose PHP programming language instead of any other as it also offers a wide range of job growth opportunities. If you are also one of them, then you can consider attending best and high quality Basic and Core PHP Training Course in Delhi NCR provided by SLA Consultants India, which is a dedicated and highly intellectual Advanced PHP Training Course which offers all the necessary expertise required from the candidate to perform Web Development using PHP language. We have designed industry specific and Job-oriented PHP Training Course for fresher college students and working professionals who want to enter into the Web Development field and enhance their current expertise to become a professional and highly demanding PHP Developer. The Core PHP Training is specifically targeted towards beginners who have just graduated and want to gain working knowledge and comprehension in Web Development so that they can kick start their career. The Basic and Core PHP Training Course is a comprehensive Basic PHP Training Course which accepts the candidate with basic and fundamental skills in PHP programming with extensive practice of coding in Web Application. There are no eligibility criteria to attend the PHP Training Course apart from having a graduation degree in the IT field. Furthermore, it is expected from the candidate to have interest and will in Web Development. And hence, if you have been dreaming to become a Web Developer programmer who will be highly recognized in the market, then join our reliable and High Quality Basic and Core PHP Training Course in Delhi NCR as soon as possible.
The Basic and Core PHP Training Course in Delhi and seat is designed to offer the beginners some programming skills and knowledge and put the foundation for learning PHP web development. The Best PHP Training will provide fundamental and basic overview of PHP language along with major concepts such as PHP functions, classes and object, array and loop, strings and conjugation, HTML entities, constants, switch and break, ternary logic and much more which will help the candidate develop and adopt numerous methodology along with best practices of coding in PHP. The Core PHP Training Course is highly suitable for non programmers and Software Developers at the beginning stage. It will be extremely beneficial for aspiring Web Developers, System Engineers, Software Engineers, Mobile Application Developers, freelancers and anyone who is looking to build powerful applications and websites with the help of PHP. Some of the major objectives of the Basic and Core PHP Training Course is to help the participant understand the structural and syntax elements of PHP, organizing coding into reusable functions, building forms to collect information from user, interacting with different databases such as MySQL, understanding PHP data types and operator precedence, applying different types of control flow structures, obtaining various tasks using PHP's wealth of building file systems along with array functions, validating Input and escaping output and much more. The certification program will enable the beginning understanding of PHP such as installing PHP, participating in developing web pages which are dynamic, participating and integrated data bases, etc in long run.
At SLA Consultants India, you will get to learn from the most experienced and qualified corporate trainers having over 10 to 15 years of working experience in the field. They will deliver industry oriented and Real-time Practical Training in Core PHP to the students using smart classes and modern and highly equipped lab facility. Apart from that, the students will be provided with workshops and seminars which will clear any of the doubts in real time and offer them hands on experience which would be extremely beneficial for their career. Similarly, the participants will be encouraged to work on various projects and assignments based on real life which can deliver them with an extraordinary understanding of using PHP programming language in resolving the real issues. The course content of Basic and Core PHP Training Course in Delhi NCR is designed and tested by industry experts which fulfills all the current and future requirements of the industry with guaranteed 99% of success rate. The institute is ISO Certified and has been in the market for the last 10 years successfully. We have provided PHP Training Course to hundreds of students who are now currently placed at reputed positions in multinational agencies. We also provide valid Certification in PHP Training to the students which prove their abilities and skills in web development which would help them put more weight to the resume. On the other hand, 100% Job Placement Support will be given to each student who have successfully completed the training which include conducting mock interviews and providing personality development training so that they can clear first time. Therefore, if you want to enter into the Web Development and Web Programming field after completion in graduation, you can attend our Basic and Core PHP Training Course in Delhi NCR.
When we talk about web development field, there are many the programming languages which one can choose as a career in future. So what are the reasons behind learning PHP and not just any other programming language? PHP has been one of the most popular programming languages since its emergence and haven't shown any decreasing rate. To be honest there are more than one reasons why you should learn Core PHP as your Web Development Career as it offers a wide range of effective benefits which you will enjoy for many years to come. These include:
It is true that due to the introduction of various languages such as python, node JS, ruby, etc have decreased the popularity of various programming languages in the world, still 80% of the most popular website run on PHP which includes Giants like Wikipedia, Facebook, Flickr, Tumblr, etc. It is considered one of the most popular languages for e-commerce websites and also has effective graphical user interface applications which are well supported with CMS site.
PHP is a highly flexible programming language which is not bound by rules. It offers the programmers and developers with the creative freedom to develop from absolutely nothing. It is extremely user-friendly in nature which is its biggest advantage as it is easy to learn.
PHP Programming Language also offers a various framework, allowing the developers not to build programs from scratch. It can be used with specific functionalities which makes programming and web application development extremely simple. Some of the frameworks include Laravel and Symfony.
PHP has a very large and reliable community where anyone who is looking to learn and master PHP Development can get crucial support from the community who can gather inputs for developing complex tools and simplifying the development process. This will help them to boost their self-confidence and tackle new challenges in the future.
PHP programming language offers better opportunities as compared to other programming languages where individuals can access multiple career opportunities. They can make their career in E-commerce platforms such as WooCommerce and Magento and other popular content management systems such as WordPress which has inbuilt PHP. Apart from that, PHP Developer is also one of the highest paid professional in the IT field who earns around 5 lakh per annum on an average basis in India.
These are probably some the most arguable reasons why learning PHP in the future can be beneficial for your career. It is a very progressive programming language which is being upgraded regularly as per the technological advancement. If you want to become a PHP Developer, then you can attend our Basic and Core PHP Training Course in Delhi NCR as soon as possible. For more information please visit our office or give us a call.
Course Duration:
20 HRS with Highly Skilled Corporate Trainers (Basic/Core PHP Training for Modules – Weekdays / Weekend
SLA Consultants India – Basic/Core PHP Certification Training Delivery Method:
Web / Desktop Base.
Instructor-Led Classroom Sessions.
Presentations/Demonstration/Practicals of concepts.
Handouts/Assignments/Real-time Exposure to work on Clients.
NOTE: Classes Are Also Available On Module Basis
Basic PHP Programme Modules
Basic & Core PHP Training Course – with 2 Projects
Please find the Basic PHP course details. Classes and Course can be designed/customize as per request
Kindly call us @ 9350319190 for course details!
Duration of Module
| Basic PHP Course Module | Basic PHP Course Duration |
| --- | --- |
| Basic & Core PHP | 20 (Hours) |
Batch Timings
| Basic PHP Course Schedule | MIS Analyst Timing |
| --- | --- |
| Monday to Friday | 8:00 AM – 10:00 AM |
| Monday to Friday | 10:00 AM – 12:00 PM |
| Monday to Friday | 2:00 PM – 4:00 PM |
| Monday to Friday | 4:00 PM – 6:00 PM |
| Saturday/Sunday | 8:00 | 12:00 | 2:00 | 4:00 |
| Sunday | 8:00 AM – 10:00 AM |
| Sunday | 10:00 AM – 12:00 PM |
| Sunday | 2:00 PM – 4:00 PM |
| Sunday | 4:00 PM – 6:00 PM |