Business Analytics Course ▷ 100 Written Job Guarantee ▷ Free Python Data Science ▷ SLA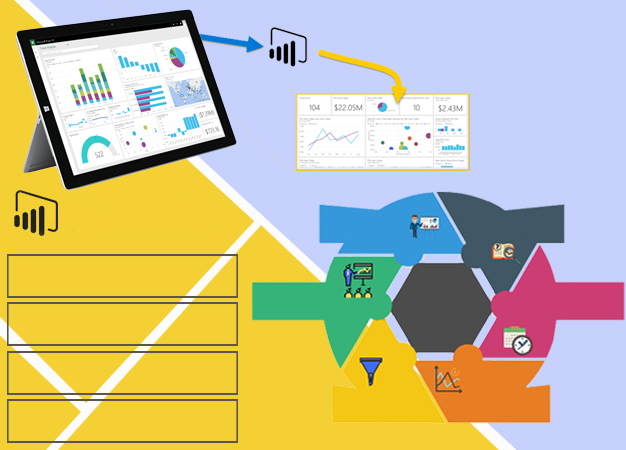 Business Analyst in Excel
MS Power BI
R-Programming
Business Analyst Training Course
in Delhi, Noida & Gurgaon
Business
Intelligence
Improve
Decision Making
Fast Answer to any
Business Query
Helps You Know Your
Business Better
Reduces the Risks
of Bottlenecks
Identify Cross-Selling &
Up-Selling Opportunitities
Enables Real-Time Analysis
with Quick Navigation
Power
BI
Business Analytics Certification
Business Analytics Course with Excel, VBA, SQL, Tableau/Power BI,Python
Business Analytics plays an important part of new process implementation and execution. With accurate Business Analysis, any company can better understand their revenue drivers, achieve growth of the business,loopholes in process, identify issues of the employees, enhance customer satisfaction, reduce the number of errors in the functionality and improve efficiency. This is why the need for a Business Process Analyst is extremely used in the companies and if you want to become a professional Business Analytics / Operation Analyst /WFA , then it is necessary for you to attend Business Analytics Course in Delhi, Noida and Gurgaon/Gurugram provided by SLA Consultants India. It is a comprehensive Business Analytics / Operation Analyst / Workforce Analyst Training Course that would offer the necessary knowledge and skills to the learner's who wants to become a professional Business Analytics / Operation Analyst / WFA. The Business Analysis Training in Delhi would enable the participant to gain comprehensive Business Analysis Tools (Tableau/Power BI/Qlikview etc) and Business Intelligence techniques and fulfill the job duties of a Business Analytics / WFA efficiently. The Business Analysis course curriculum of the Business Analytics Training Program is designed by industry Sr Analytics Experts while keeping in mind the talent requirement of the Business Industry and the Business Analysis Training / WFA Course is conducted by highly efficient subject matter experts with over 16+ years of experience in the relevant field who would use their experience to guide the learner's towards best career. The eligibility criteria to attend the Business Analytics Training Course is to have a graduate degree in any field along with and interest in numbers, statistics and figures. The Business Analytics Training / Operation Analyst is specifically targeted towards current college graduates and working professionals who want to enter into the business analysis field who wants to improve their analytics skills to achieve scope in their career.
Business Analysis Training Course in Delhi, Noida and Gurgaon/Gurugram is divided into five different module which can be completed within 90 hours of Business Analyst Training. Aspiring candidates can get preferred batch timings in the form of weekdays and weekend classes. The Business Analyst Training will provide extensive and in depth knowledge in Business Analysis tools which include Microsoft Advanced Excel, Microsoft Power BI, MS Access and SQL, Python Overview and R-programming. All of these are considered extremely powerful and highly reliable Data Analytics tools which can be used by business organizations to identify the risks and opportunities in the market along with customer behavior and latest trends to make better decision making for the business. Our instructors will try the best to help the participants gain necessary skills and knowledge required to become a Professional Business Analyst which include communication skills, analytical skills, evidence based approach, better understanding of Information Technology, problem solving skills, etc. The participants will also learn making better decisions for higher profit, understanding the information that could drive the business, impressing the stakeholders, managers and clients through better insight and presentation skills, saving a lot of time and money in data handling, turning files of data into sound business decisions, essential Excel analysis methods such as Advanced charts and dynamic range, impart your findings in an efficient manner the stakeholders and different forecasting techniques such as the regression and moving averages.
After successfully completing the Business Analysis Training Course the participants will be able to fulfill the job responsibilities of a Business Analyst which is to communicate with colleagues to better understand the requirement of departments and Organisation, working with external stakeholders to investigate review into the service, using data modelling techniques to analyse the findings and making suggestions for strategic changes, considering opportunities and potential threats associated with the recommendations, supporting the staff and team to resolve issues, communicating the benefits of the recommendations to different departments, and much more. The students will learn all this through Real-time Business Analyst Training conducted by the trainers along with live projects and assignments that would provide a working knowledge of business analysis. The Business Analyst with Tableau, MS Power BI, Python Data Visualization and R-Programming Training will make them a full fledged professional in Business Analysis who would not require any additional Business Analyst Training to get a placement. The Business Analyst Course is highly beneficial for any candidate who wants to become a Data Analyst, Business Analyst, Data Manager, Business Intelligence professional, Senior Analyst, etc. The participants also receive valid Business Analyst Certification in Business Analysis upon successful completion of the Business Analysis training and give 100% Placement Assistance with mock interviews and Personality Development training to make them a job ready professional within a matter of time.
Business Analysis is one of the fields which have an infinite scope as it deals with improving the business performance and productivity with or without Technology. Business Analysis can be anything which is performed to improve the Business Process. The job of a Business Analyst is extremely important for any business organization. Therefore, it can offer enormous benefit if you learn Business Analysis.
There is a huge requirement for a Business Analyst in the Indian market as every business wants to identify and remove issues which would lead to increase their productivity and achieve growth. Therefore, learning business analysis can help you provide better job security.
With increasing amount of data being generated, it is necessary for the business organizations to collect and analyze this business information to identify growth opportunities for the business, for which, they need to hire professional and certified Business Analysts.
A Business Analyst is considered one of the most prominent and highly valuable job profiles in an organization which would offer you respect and recognition in the market.
Many MNC organisations such as Genpact, HCL, Infosys, Google, and much more are constantly looking for certified Business Analysts and Business Intelligence professional who can help them improve their performance.
According to pay scale, a Business Analyst earns a better pay scale as compared to any other professional in the Data Analytics field. This is because the findings of a Business Analyst can be extremely important for the company to make necessary changes in the business process to achieve growth.
These are some of the reasons why you should consider joining Business Analysis Training Course in Delhi, Noida and Gurgaon provided by SLA Consultants India. If you have any questions regarding the Buisness Analyst Course or our Institute, feel free to give us a call or visit our centre in Delhi, Gurgaon or Noida.
Business Analyst Programme Details
Course Duration: 60 HRS with Highly Skilled Corporate Trainers Business Analysis for Modules–Weekdays/Weekend
SLA Consultants India – Business Analyst Practical Training Delivery Method:
Web / Desktop Base.
Instructor-Led Classroom Sessions.
Presentations/Demonstration/Practical's of concepts.
Handouts/Assignments/Real-time Exposure to work on Clients.
NOTE: Classes are also Available on Module Basis
Business Analyst Certification
Business Analyst Course
Please find the Business Analyst Course Duration Details.
Duration of Module
| Business Analyst Course Module | Duration |
| --- | --- |
| Module 1 – Basic and Advanced Excel + Any One (Python Overview/R Programming /Tableau /Power BI) | 25 – 30 (Hours) |
| Module 2 – VBA / Macros + Any One (Python Overview/R Programming /Tableau /Power BI) | 25 – 30 (Hours) |
| Module 3 – Access and SQL + Any One (Python Overview/R Programming /Tableau /Power BI) | 25 – 30 (Hours) |
| Module 4 – Tableau or Power BI + Any One (Python Overview/R Programming /Tableau /Power BI) | 25 – 30 (Hours) |
| Module 1 and 2 – Excel + VBA / Macros | 50 – 60 (Hours) |
| Module 1 and 2 – Excel + VBA / Macros+ Any Two (Python Overview/R Programming /Tableau /Power BI) | 50 – 60 (Hours) |
| Module 2 and 3 – VBA / Macros + Access and SQL | 50 – 60 (Hours) |
| Module 2 and 3 – VBA / Macros + Access and SQL Any Two (Python Overview/R Programming /Tableau /Power BI) | 60 – 70 (Hours) |
| Any Module 1 to 3 – Excel + VBA / Macros Access + SQL + Tableau or Power BI | 75 – 80 (Hours) |
| M 1 to 4 – Excel + VBA / Macros Access + SQL + (Tableau or Power BI or Python Data Visualization) Any Two (Python/ R Programming /Tableau /Power BI) | 85 – 95 (Hours) |
Batch Timings
| Business Analyst Course Schedule | Business Analyst Batch Timing |
| --- | --- |
| Monday to Friday | 9:00 AM – 10:00 AM |
| Monday to Friday | 10:00 AM – 12:00 PM |
| Monday to Friday | 2:00 PM – 4:00 PM |
| Monday to Friday | 4:00 PM – 6:00 PM |
| Saturday/Sunday | 9:00 | 12:00 | 2:00 | 4:00 |
| Sunday | 9:00 AM – 10:00 AM |
| Sunday | 10:00 AM – 12:00 PM |
| Sunday | 2:00 PM – 4:00 PM |
| Sunday | 4:00 PM – 6:00 PM |
FAQ