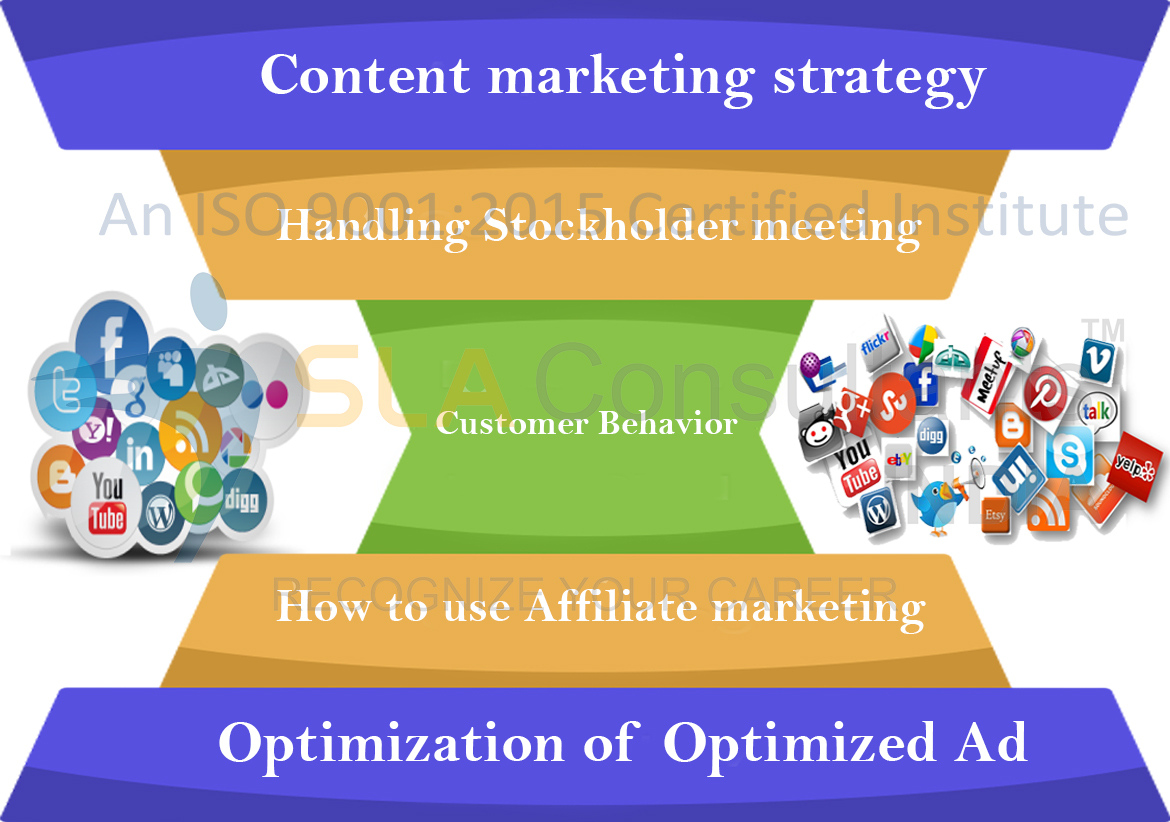 Digital marketing course is a landmark course that has helped millions of students in developing their career if attended by a reputed and prestigious training institute. The course offers the students with essential knowledge on various digital marketing elements that include SEO and SMO, SMS and Email marketing, affiliate marketing, Google Adwords and Google Analytics, social media marketing, etc.
However, when it comes to choosing a Digital Marketing course, students and candidate make many mistakes other than choosing an certified training institute that directs their career to a wrong path, and even worse end their career before starting. If you are also willing to join a Digital Marketing course, then below are mentioned 5 most common and biggest mistakes that you need to avoid in order lead a successful career.
Content marketing strategy: Content marketing is one of the most important elements of digital marketing which the applicant needs to learn effectively. However, many students try to skip the part, thinking it to be not worthy or insignificant. The fact is, content marketing strategy allows the business to maintain a website that reaches the top search engine results. It increases the visibility of the business that enhances more sales and revenue, which is the main motive of digital marketing. Thus, make sure you don't make this mistake or it would affect your career gravely.
Handling Stockholder meeting: One of the most important aspects of digital marketing is to form a meeting where all the essential stakeholders are present to make necessary decisions regarding the marketing. This meeting needs to be managed effectively as it is here where the measures of marketing and its future steps are decided. However, in a various Digital Marketing Course, the main focus is only on the elements and not of other factors that also play a major role in its successful implementation. In this section, the candidate learns how to talk and convince stockholders to go on with your designed digital marketing campaign by conveying them about the various benefits associated with it.
How to use Affiliate marketing: Affiliate marketing refers to sales enhancement marketing technique where the company uses the help of affiliates effort to sell their online products and when a sale is made, the affiliate gets a commission. It is a very old form of advertising which is very useful in digital marketing but rarely used. Digital marketing course providers tend to overlook explaining the concept of affiliate marketing, which many times, costs the candidate his/her career. There are many online based eCommerce companies who hire candidates with skills in the area and thus, it is necessary that you join a Digital Marketing training course where you can learn how to use affiliate marketing.
Customer Behavior: One mistake much Digital Marketing course provider make is not offering enough advice and learning on the concept of customer behavior in Digital Marketing. Customer behavior is the key element that aids in enhancing the sales through digital marketing. It tells the company about what customer is thinking about your product as compared to the others and how likely they are going to purchase your products. Candidates should know that customer behavior is also one of the key aspects of Digital Marketing and only join an institute that provides enough knowledge on the topic as well.
Optimization of Optimized Ad: At last, during the Digital Marketing training course, students learn about developing an advertisement and placing it on several websites or application. But one common mistake they make is they don't learn to optimize the ads, which is mainly responsible for triggering the sale. Optimization of an optimized ad makes sure that the ad is not only being watched by millions of people but in fact is watched by people who matter. For instance, showcasing an ad of a microwave oven to a person who loves football won't convert the lead to sales.
These are some things that many Digital Marketing course providers don't offer in their training, but should in order to help the students gain not only basic knowledge of the elements, but learns the overall concept that increases their worth to any reputed industry. If you are willing to pursue a career in digital marketing, then make sure you avoid these 5 biggest mistakes in Digital Marketing course while choosing a reliable training firm.
SLA Consultants India is one such highly effective and award-winning training institute that offers the most reliable digital marketing training to the candidates.