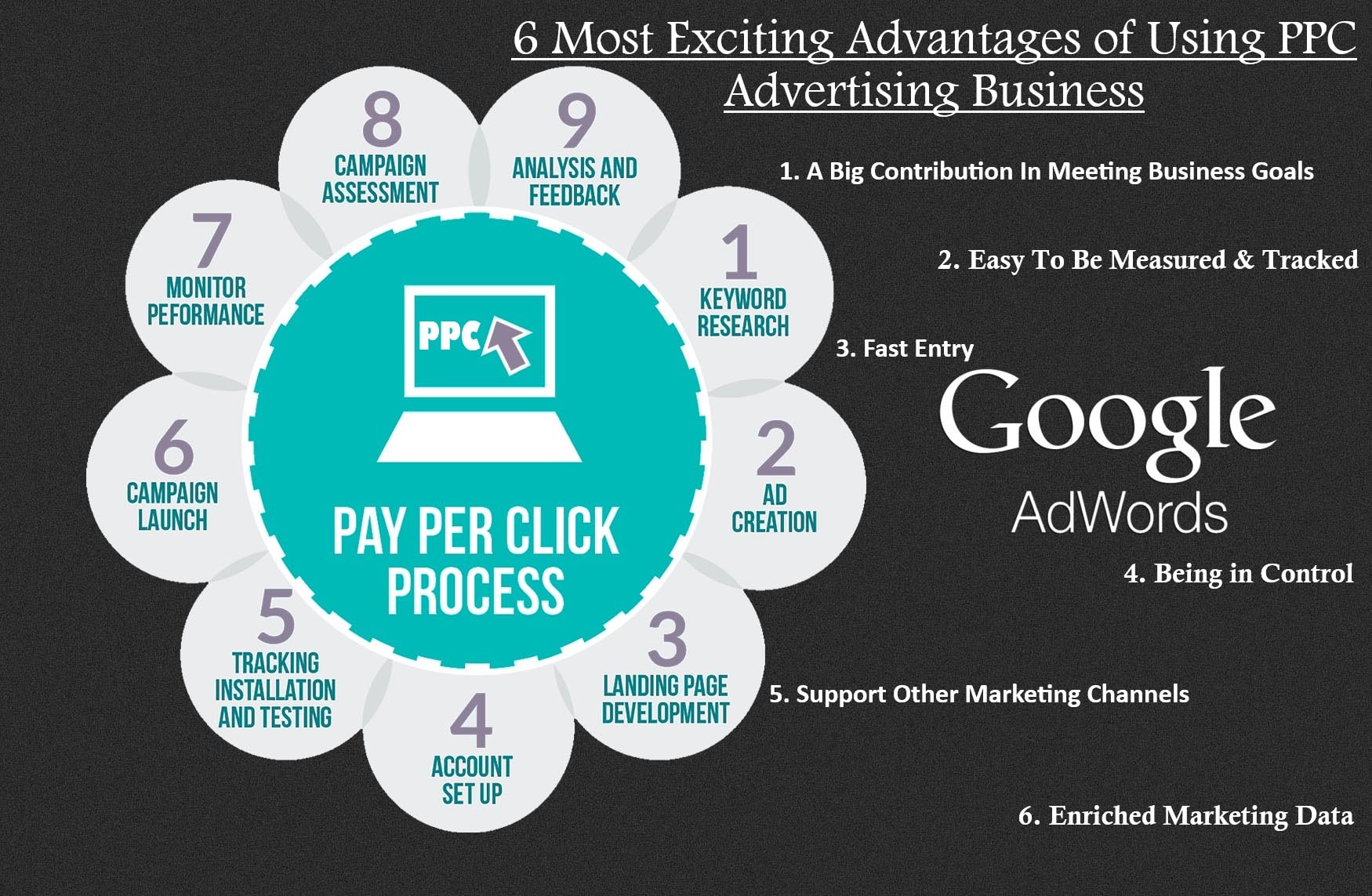 Invariably, there are never-ending Advantages of PPC Advertising for today's modern Digital Marketers available in the industry. PPC or Pay per Click can have a greatest and optimistic impression on most brands and business organizations. If you do not know much about Pay Per Click Marketing or do not know about its implementation, then you're surely losing out some valuable traffic. Whether you are the boss or a regular employee of a Digital Marketing agency, you should know about some of the most compelling benefits of using Pay per Click advertising. Here are just five powerful Pay per Click benefits that you cannot ignore.
A Big Contribution In Meeting Business Goals – PPC advertising contributes the most in achieving a wide range of business or marketing goals. Whether it is about achieving great brand exposure or some amazing lead submission, Pay Per Click advertising has covered you all. With the help of this technique, it cannot only help in tracking your conversion goals but also help to align traffic drivers to the target. Pay Per Click can also help in supporting several parts of the sales funnel and a way that spreads awareness to the customers.
Easy To Be Measured & Tracked – The biggest advantage of Pay Per Click Advertising running via AdWords is it is quite easy to measure or track. This can be easily done with using AdWords tool with Google Analytics. You can surely notice an amazing performance including clicks and conversions. During PPC Advertising, you will be able to keep track of your performance. Stats will show the performance of your campaigns and the kind of website traffic driving your business goals. When dedicated landing pages receive your PPC traffic, you will be able to track conversion using Google Analytics.
Fast Entry – Even if you're newly participant of Pay Per Click Marketing, you can quickly cope up with their competitors by performing a bit of optimization. This is the exact opposite of starting off with SEO efforts as it takes a considerable amount of time to get the same type of traffic or position that AdWords provides. Pay Per Click advertising is much better than any other channel boosting brand awareness. It benefits business organizations with targeting audience. It helps you to find new potential customers or clients. Using Pay Per Click Advertising platform, one can be done research work, build campaigns and write ads. You can perform a maximum of tasks without needing any help from the team.
Being in Control – While setting up campaigns, you have a control over a range of options for how to get potential clients. This will start off with using keywords you have selected to target and how controlled you want to be. Budget flexibility is also being offered to Pay per Click users. For example, you can easily set your budget and set the amount you are willing to spend. After seeing positive results, you can choose to carry on or take a break or even stop your ads. This is quite difficult in case of ongoing marketing campaigns. Using Google AdWords auction and algorithm, you can know where your ads are positioned and how much you'll spend when comparing to your competitors. The best part is that you have the leverage to make editing and optimization in your running ads.
Support Other Marketing Channels – Content Marketing uses content plans or calendars that have become the norm in the business world. AdWords is an engine that can help businesses to drive visitors to their content and enhance the ROI on each content investment. Pay Per Click and Search Engine Optimization (SEO) works completely well together. As most people are using Google to find any information or product, so the opportunities for traffic are frequently to the same viewers. The performance data of click or conversions from AdWords can offer an insight on a keyword-by-keyword basis for where to assign a priority to SEO efforts. All of this combines with content marketing to ensure complete sufficiency and achievement of the business goals. AdWords remarketing can encourage visitor engagements. Remarketing Ads are often visible to the individuals who visited and left your website, depending on the audience you choose. Pay Per Click is just like traditional mail system with costs per conversion.
Enriched Marketing Data – The click, conversion and impression data for every keyword can be utilized to advise the strategy for Search Engine Optimization and efforts involved in content marketing. Google AdWords provides a lot of performance information or data and its value is way beyond PPC performance. You can also use built-in display planner or keyword planner to know about where the audience is.
PPC Advertising has managed to become a profitable and advantageous channel of a lot of B2B, B2C or other business organizations seeking increased traffic and quick conversions. Considering the above advantages of using Pay Per Click Advertising, Online Marketers need to learn the tactics of PPC campaigns. Most renowned Digital Marketing Training Institutes like SLA Consultants India offers industry-accepted PPC Training Course for those aspiring candidates that want to pursue their career in Digital Marketing. So, go for Pay Per Click Advertising to make your business goals accomplished and make your business gain efficiency.