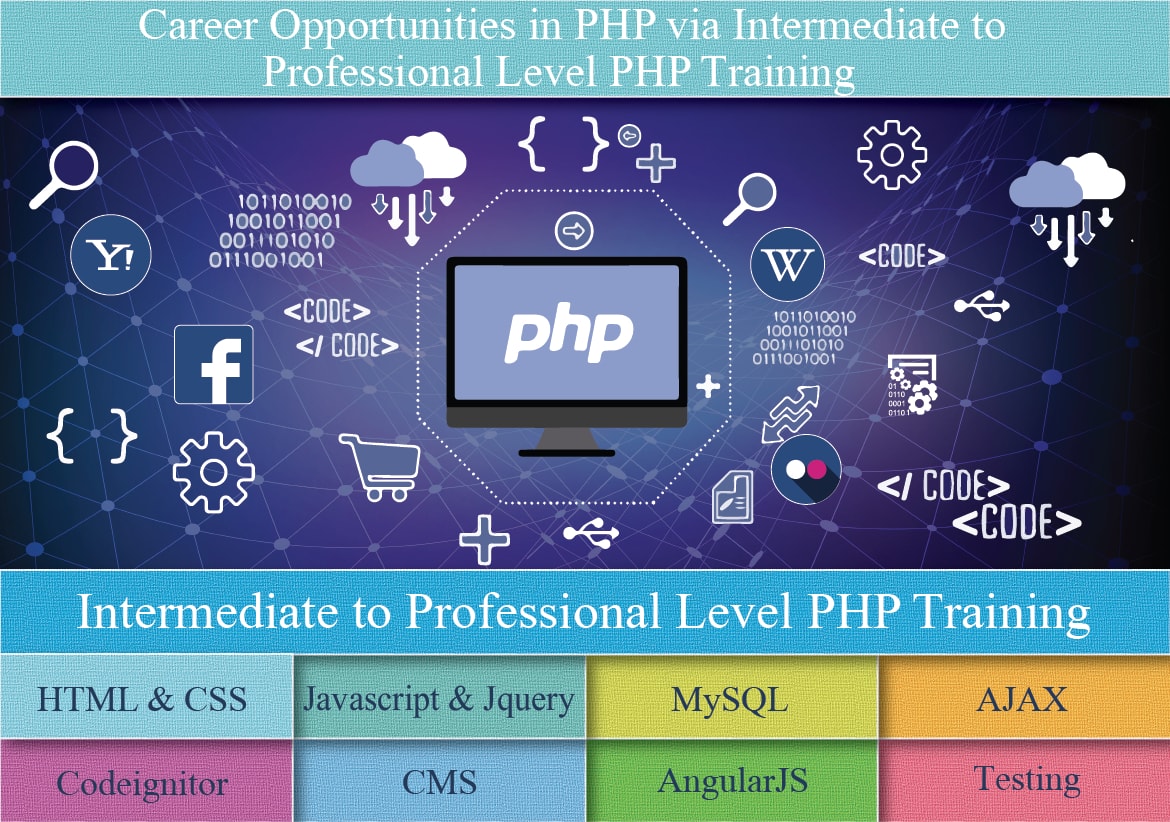 PHP or Hypertext Preprocessor is a widely used open source, server-side, scripting language for web development. Created by Rasmus Lerdorf in 1993, PHP is also used as a general-purpose programming language. PHP is rapidly becoming a smarter choice for web developers that want to create dynamic web applications. This programming language is not hard to learn, you can grasp many of its important concepts of a Basic PHP Developer Training. Although PHP developers are now highly skilled and talented in developing static and dynamic web pages, every latest trend helps them learn more. PHP is a good option for learning for the fresher and experienced candidates, especially who have come into IT background. It is recommended that candidates who have recently completed their graduation should go for intermediate to Professional & Expert Level PHP Training. Although, there is a tough competition in PHP and people do not have the complete knowledge of the PHP job market, there are plenty of Job Opportunities for PHP Developers in the industry.
There is an attractive growth for the PHP developers and a lot of options are available for them to get into the career in PHP. Whether you are an IT fresher or experienced, there are some excellent future opportunities for you. As a fresher candidate for learning core concept of programming, you will find that PHP is much easier to learn or master than other programming languages. The only thing you need is to concentrate on all the concepts of the PHP programming language. It is an open source platform which is used to create dynamic, attractive and completely functional websites at a lower cost. Invariably, there is an extensive increase in demand for PHP developers at national and international level. Moreover, there is an increased requirement for more and more dynamic and attractive websites globally.
According to the recent search more than 40 percent of the global popular web portals available on the internet these days. The most famous web portals like Facebook, Wikipedia, Yahoo, and Flickr that are based PHP programming language. Therefore, the demand for PHP has increased in the entire world. Constantly, many Professional PHP Web Developer Training Institutes like SLA Consultants India offer intermediate to Advanced PHP Developer Training.
There are several benefits that you can reap after becoming a highly-skilled PHP developer. Web development companies now prefer development of their websites on PHP to save their efforts and costs over time. Learning Basic to Expert PHP Developer Training Course can help you get good career options ahead. You can go for reputed PHP Development Training Institutes that offer training courses backed with real-time projects under the monitoring of industry expert. Prefer to join a PHP Training Institute that offers a complete training from Intermediate to Professional Level PHP Training.
A professional PHP developer can opt for continues the career in a company or can even go for freelance PHP development jobs. No doubt that a fresher has to do a little struggle to reach on the level of experienced PHP developers that are earning a good salary in the top web development companies. But once you get skilled in PHP, the scope of growth for you will become bigger. Apart from the job profile of a developer, you can also opt for other job profiles like the project manager. The experience and skills will multiply your monthly income and you can get chances to get promoted in your company.
Where to get the best intermediate to professional level PHP training?
SLA Consultants India is counted amongst the Best Web Development Training Institutes that offer intermediate to advanced PHP developer training and PHP Certification Course in Delhi, Noida, and Gurgaon/Gurugram. And the Best PHP Developer Training Course is designed by the experienced corporate instructors that are ready to share their knowledge with the aspiring candidates.