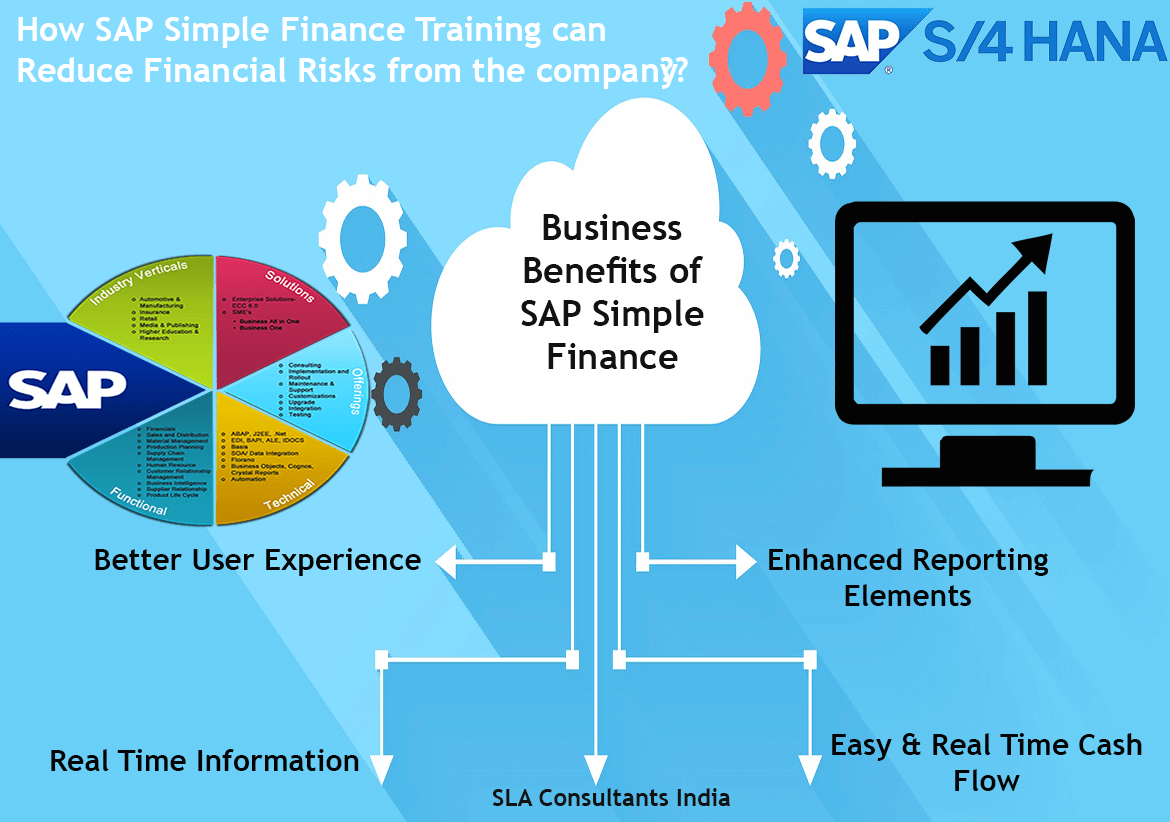 SAP Simple Finance which is also known as SAP S4 Hana refers to an updated version of SAP Simple Finance and also an extremely important module of SAP ERP system which consists of various Universal features including journal, Real-time Analytics, streamlined design and much more. The major objective of SAP Simple Finance is to remove any kind of conventional and traditional obstacles such as Analytic, Transactional, and Planning system which helps in providing Real-time and instant insights on the Business Operations along with on-the-go analysis which can be used at different levels of the Financial Information. Importance of SAP Simple Finance has become extremely necessary in all the decision-making models related to data and also to develop an estimation of the crucial information with the help of Real-time analytics using different systems. It helps Financial Management to perform their functions efficiently in enterprise resource planning. The main design of SAP Simple Finance for SAP S4 HANA is to provide maximum benefit to the HANA database and consists of three important elements known as SAP Accounting, SAP Cash Management, and integrated Business Planning.
Business Benefits of SAP Simple Finance

There are various benefits associated with using SAP Simple Finance module as it is revolutionizing the Finance Industry and allowing the companies to share a large amount of data, enhance closing and reporting along with better decision making which is supported by fast transactions. It can easily be executed on any promises even in the cloud or any other environment which offers complete freedom to the company. Some of the various benefits it offers to the businesses include:
Better user experience where SAP offers different elements such as Financial benefit and enhancement along with user-friendly interface which helps them to easily interact with any core component. It can also be upgraded automatically.
SAP Simple Finance also comes with enhanced reporting elements along with the updated APP component. It enables the user to perform Real-time reporting analytics which can easily installed all over the basic component of SAP ERP and SAP HANA. It is extremely concentrated on the Financial decision making of the company by opening a collection of analytical applications for the Financial suite.
When the user is provided access to Real-time information, he or she will be able to perform Financial planning effortlessly which can be done with the help of the updated version of SAP Simple Finance that offers freedom to take business benefit in decisions anytime. The planning model of SAP Simple Finance allows the user to go with an end to end simulations and Financial Analysis.
With easy and Real-time cash flow in the company offered by SAP S4 HANA Simple Finance allow them to reduce cash management cost by half. It reduces Financial risk which is extremely beneficial in the fluctuating market dynamics which would not affect the decision making. Any kind of pending payment can be planned effectively with SAP Simple Finance with also let the company automate their accounts by making them payable and receivable which reduce the time spent on making payments.
There are many other advantages which any business organization can enjoy by implementing SAP Simple Finance which involves Financial Planning and Analysis, aligning cloud and other on premise application scenarios, preparing for future innovation, modern and enhanced ease of use, Enterprise Risk and Compliance Simplicity, Account Analysis, Simplified Data and much more. If any business organization needs to reduce their Financial Risks and take better decision making regarding the finances of the company, then it is highly important for them to utilize and implement SAP S4 HANA Simple Finance as soon as possible. Apart from that, they can also provide SAP Simple Finance Training to their current employees who can improve their skills in Financial Management and contribute greatly to the success of the organization. There are various SAP Simple Finance Training Institutes in Delhi NCR who have been delivering necessary skills in finance to the participants along with current working professionals and help them and hence their abilities to the best. SLA Consultants India is one such Best Training Institute where businesses can send their employees for SAP Simple Finance Training where they will be trained under experts for vision and provided real-time expertise and a practical session using live projects and assignments to give the hands-on experience and Indus insights on financial management with SAP Simple Finance.