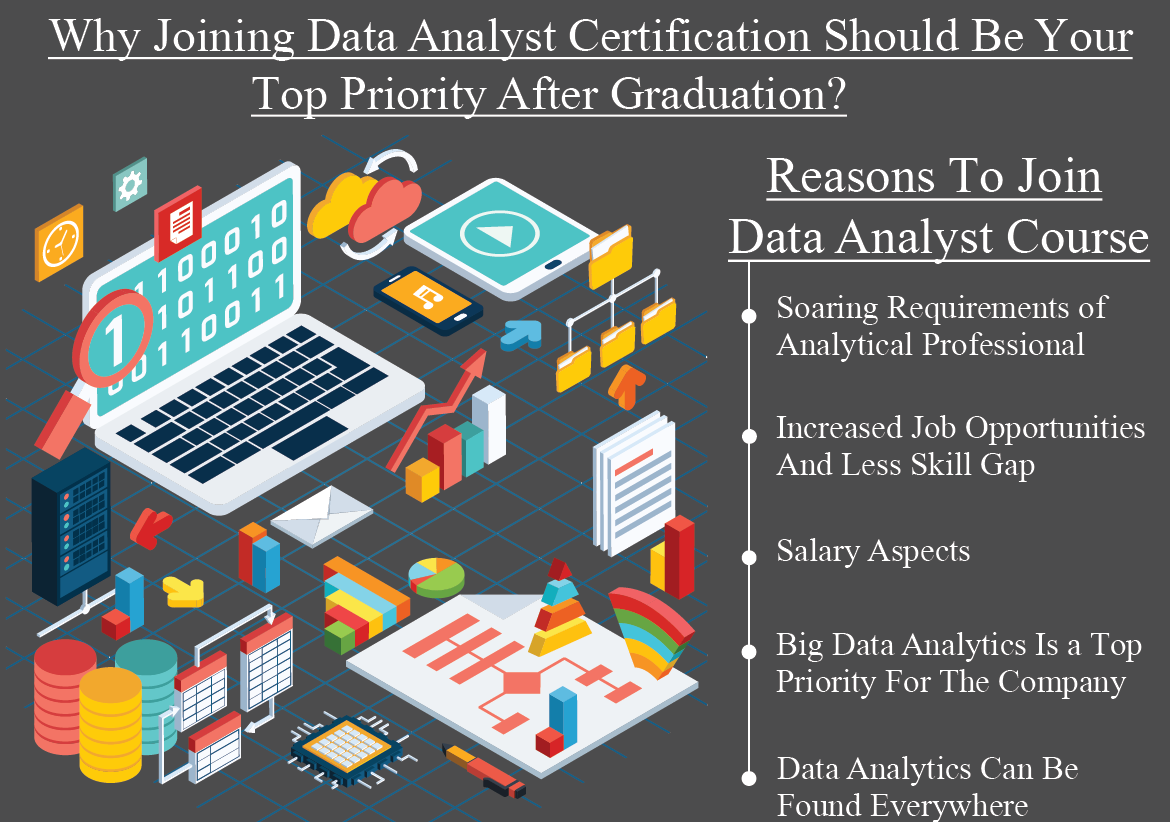 If you want to find out the Scope of Data Analytics in India then it is safe to say that it is huge. A career in Data Analytics has become one of the most attractive career destinations for graduate learners as it offers a great deal of excitement and challenging work which can leverage the business along with technical knowledge in the market. There are exceptional financial rewards and other benefits associated with the field. And this is the main reasons why fresher college graduates in Technical & Non-Technical fields are attending Data Analyst Certification Course in order to enjoy the scope of Data Analytics in India. Today, workspaces are becoming more fast-paced and Tech-driven, and professional Data Analysts are playing an important role in the business. Both MNC organizations and startup are looking for export Data Analysts at the workplace who are capable of analyzing, recording, and directing information in order to support the decision-making process. And if you want to become one, then you should consider learning with Data Analytics Training in Delhi and Gurgaon provided by the Best Data Analytics Training Institutes.
Reasons Why Data Analytics is the Best Career Choice Right Now
Information can be found everywhere and it is highly important for the businesses to collect and preserve information which is constantly generating. Data Analytics can be considered as the Frontier of the information technology as it is aiding businesses to improve their decision making and offer biggest edge over the competitors. For professionals was killed in Data Analytics, there is an ocean of opportunities which can be found in the Indian and overseas market. Below are provided some of the reasons why attending a Data Analyst Certification Course can be beneficial for their career.
Soaring Requirements of Analytical Professional:- According to various studies, there is a great significance of Analytical Professionals in the market as information can be regarded as useless if it is not analyzed properly. There are tremendous Job Opportunities in Data Analysis and Data Science which is continuously increasing every year where it professionals are investing more money and time for Data Analyst Training.
Increased Job Opportunities and Less Skill Gap:- One of the biggest concerns in the Data Analysis field is that there is a huge demand for professionals in the market but also the industry suffers from the huge deficit in the supply side. Career opportunities in Big Data Hadoop Training and Big Data Analytics is thriving where a large number of unfilled jobs can be found with a shortage of required skill. Therefore, acquiring skills in various Data Analytics tools training such as Python Training, R-Programming Training, SPSS Training, and SAS Base & Advanced Training can help the candidate become a highly demanding professional in the market for which he will be rewarded financially.
Salary Aspects:- Due to the increasing demands for Data Analytics in the market, increase in the wages for qualified professionals can also be witnessed. according to numerous studies, the average salary of a data analyst is $130,000 internationally which is continuously increasing. In the domestic market, the average salary of a professional Data analyst is around Rs. 10 lacs per annum. The salaries also differ in various Data Analytics fields such as Big Data Hadoop, R-Programming Engineer, Business Consultant, Business Intelligence and Analytics Consultant, SAS Consultant, etc.
Big Data Analytics is a Top Priority for the Company:- A large portion of organizations have understood the importance of Big Data Analytics and made it their priority to increase the performance of the company. Based on various researches, it has been found that around 45% of companies believe that Big Data Analytics has offered them great business insights and help them identify sales and marketing opportunities. This has also lead to an increase in the demands of Big Data Hadoop professionals who can help the company adopt Big Data Analytics and provide as over the competition.
Data Analytics can be Found Everywhere: – One of the biggest reason to choose Data Analytics as a career is the fact that Data Analytics is utilized everywhere in the decision-making process. Business Industries such as Healthcare, consumer, manufacturing, technology, banking, and energy are using Big Data Analytics constantly for various purposes such as better decision making, the better relationship with the customer, increased sense of risk, increased financial performance, and much more.
After knowing all these reasons, it is safe to say that pursuing a career in data analysis can offer great career growth opportunities to the candidate in the future. Therefore, attending Data Analyst Course in Gurgaon & Delhi should be the top priority for graduate learners after graduation. SLA Consultants India is known to provide Best and Quality Data Analytics Training to the candidates with detailed insights on various Data Analysis tools such as Python, SPSS, R-Studio and SAS real-time practical training and live projects conducted by highly certified and experienced trainers. They have been providing Data Analytics Certification Training to the participants for over 10 years successfully and offers 100% Job Placement Support upon completion of the training to help them secure a high paying and respected job at any reputed organization. The institute also provide Valid Certification in Data Analytics to the students to help them prove their worth to the recruiters during the interview.