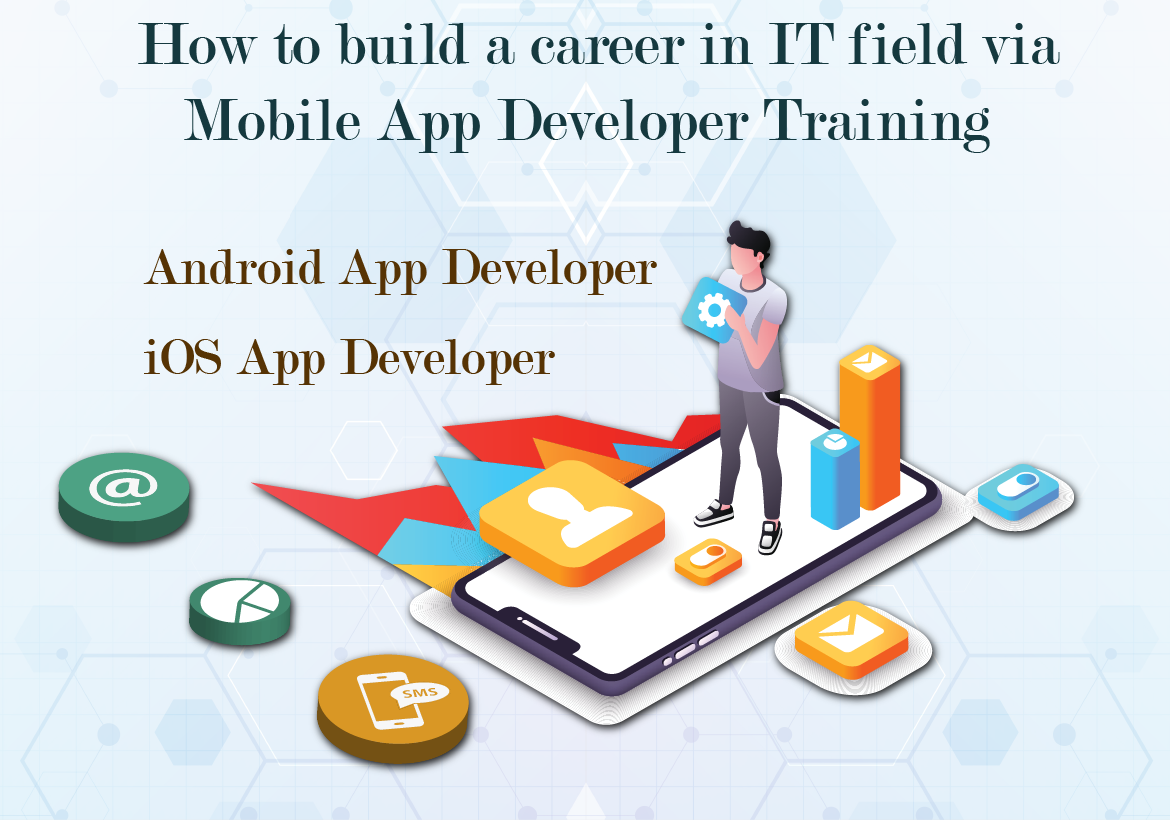 There are a lot of career opportunities in the vast arena of IT. Invariably, Mobile App Development field is experiencing a tremendous rise in popularity. Most of the world's population is connected to each other via mobile phones. More than 5 billion people are counted amongst Mobile App users. Today Mobile App is made for almost everything, from shopping to getting a cab, playing games, designing and scheduling meetings. Mobile devices have become a common platform for every person to perform multiple tasks while sitting at home. Consequently, the demand for highly talented Mobile App developers has surged. The emerging startup panorama has contributed largely to the need of Mobile App Developers and most of these startup companies are ready to pay a good amount of salaries to the deserving developers. Most of the small and big enterprises are switching to mobile environments.
Why Choose Mobile Application Development Training?
You will be capable of designing something unique and fresh.
Get an opportunity to reinvent the way mobile technology is been used.
Mobile App developer can work anywhere with good salary.
Mobile Application developer Training Programs in Delhi NCR
Today's Mobile App companies want their developers to be up-to-date and knowledgeable about the developing methods of Mobile Applications. The best way to keep you updated is to take Mobile Application development Training in Delhi, Noida, and Gurgaon. You can find several types of Mobile Application Training Programs available for aspiring Mobile App developers. For example, Android App Developer Training Course and iOS App Developer Training Course are amongst the most famous Mobile App Training Programs. There are many other Popular IT Training Courses available with SLA Consultants India. Many of them offer certified android app and iOS app developer training which will help learners to get knowledge in their field.
What does it feel Like to be a Mobile App Developer?
With necessary experienced and skills, a career in Mobile Application Development can boost your annual salary. This will also depend on the Mobile Application Training Course you have used to learn Mobile App developer skills and the amount of experience you have in this field. Similarly, your responsibilities will also depend on your employer and the amount the experience you have gained in this field. A highly skilled Mobile App developer will develop, test and modify Mobile Applications. Mobile App developer also ensures the functionality of the applications according to the client's requirements. The developer writes code for applications, designs the interface of the application, and provides support for your application to fix any issue occurred in the application. A Mobile App developer will work with analysts, project managers, software engineers, and other application developers.
An Outlook for Mobile Application Developers
The need for talented and unique Mobile App developers continues to grow. Gradual growth in the demand has resulted in numerous opportunities for developers to work as a part of a reputed organization or as a freelance. Finding a deserving candidate with particular skills is not so difficult in the career of Mobile App Development. Therefore, choosing a career in Mobile App developer is a good choice for programmers. According to many reputed employers and managers, the requirement of a good Mobile App developer is exceeding at the moment. Over the upcoming few years, the Mobile App market is expected to develop significantly.
The Value of Industry Accepted Mobile App Developer Certification
Choosing a reputed iOS Mobile App Developer Training Institute in Noida, Gurgaon & Delhi and Android Mobile App Developer Training Institute in Noida, Gurgaon & Delhi can help you to get brighter career opportunities in this field. SLA Consultants India is counted amongst the most reputed Training Institute offering Mobile Application Developer Training in Delhi, Noida & Gurgaon. The institute offers a variety of training course like Android App Developer Training Course in Gurgaon, and iOS App Developer Training in Gurgaon and other web development courses. The institute helps you to get industry-accepted certification so that you can work in some reputed and well-established business organization. Our highly skilled mobile developers will help you to enhance your programming skills and keep you updated as per developing the technology. 100% Placement Assistance will be provided to the candidates to get great placement opportunities. Industry accepted certification will help you to be globally recognized as the most skilled Mobile Application developer.