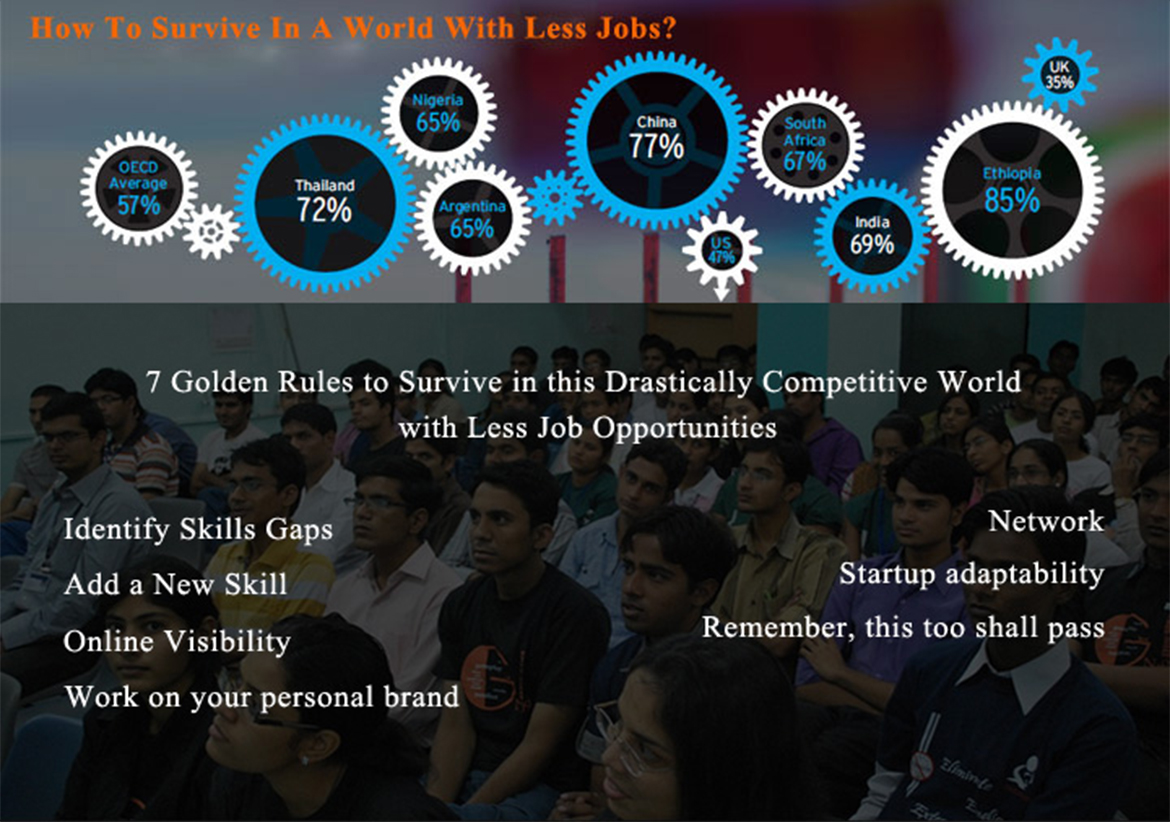 7 Golden Rules to Survive in this Drastically Competitive World with Less Job Opportunities
Embrace the fact that finding a promising job opportunity as per your skills has been incredibly difficult due to the ever evolving competition in the market. The number of applications exceeds the job opportunities present, which makes it really complicated for candidates to clear interviews regardless of having required qualifications and proficiency.  This has become a very frustrating issue for the younger generation and college students as Freshers are the one who are hit hardest due to this competitiveness. Business corporations tend to hire particular individuals with quality experience and skills and those with lesser expertise and no experience went home with a long face. This is the story with most of the job seekers these days and if you are also one of them, then this article will help you survive this world with less jobs.
In order to survive the world with extensively less job opportunities, just having graduate degree or certification course won't lead you anywhere, and certainly not to your career goals. You require some special skills and abilities which would help you attract the eyes of the recruiters along with taking some tech savvy actions to give you much better visibility. Let's discuss the ways how you can survive this heavily competitive job market.
Identify Skills Gaps: In the current business market, skills are considered the most important factor while hiring a candidate. And having skills that require improvement would only give you interview opportunities, but not the ability to clear them. Identifying your skill gaps would certainly help you tackle the issue by gaining essential skill sets required in the current market. As told by Rajeev Banduni, CEO of GrowthEnabler, some of the most important skills to look for in the near future include creativity, problem solving, critical thinking, people management, emotional intelligence, coordinating with others, decision making, cognitive flexibility and negotiation.
Add a New Skill: Every business organization targets to achieve better growth despite the emergence of new companies everyday. This increases the demand of highly skilled laborers with more than one sets of capability. Adding one or more skills on your resume would definitely allow the recruiter to consider you the position as an employee with brilliant problem solving, management or decision making skills could make you a more suitable candidate for the job profile.
Online Visibility: Having a documented resume on your computer won't get you anywhere. You need to make an online presence so that the potential recruiters could find you and shortlist you as per their job profiles. Recruiters search for job seekers through online portals and browse through several profiles in order to shortlist a bunch of them for the interview. Thus, build your online presence by developing an engaging and attractive resume on online professional networking sites such as LinkdIn and Indeed.
Work on your personal brand: Just as every company requires branding to achieve success, you should also brand yourself to attract more recruiters. Include your previous successful works on your online resume and update it on a regular basis. Put your latest skills and develop a strong social media presence to develop a positive impression.
Network: Building network is extremely crucial for every individual seeking job as it increases the possibility of you finding the appropriate recruiter. Talk to as many people from your industry as possible and maintain communication with them. Constantly talk to your colleagues and peers on relevant job opportunity to get a head start.
Startup adaptability: Most job seekers opt out joining startup companies due to law payscale or fear of business stability, and if you are also one of them, then its time you change your perspective towards start up business. Start up business these days are contributing equally to the economy as of MNCs and large scale industries. And you never know when a startup company could flourish to overpower other large firms. Startup firms are now beginning to spread their wings on several business sectors it is time that you begin taking startup jobs seriously.
Remember, this too shall pass: Being unemployed can cause serious stress and depression in the individual, which can destroy one's self confidence, says Lohit Bhatia, Business head staffing at Ikya Human Capital Solutions. But one should not let such situation get the best out of them, and remember, even experts require a break to gain the momentum. All you need to understand is remember to upgrade your skills, be physically and mentally fit, take participation in social activities and do not let the negative thoughts overcome your fears. Know that this too shall pass and you will be emerged as a winner. Sometimes, it just takes a little time.