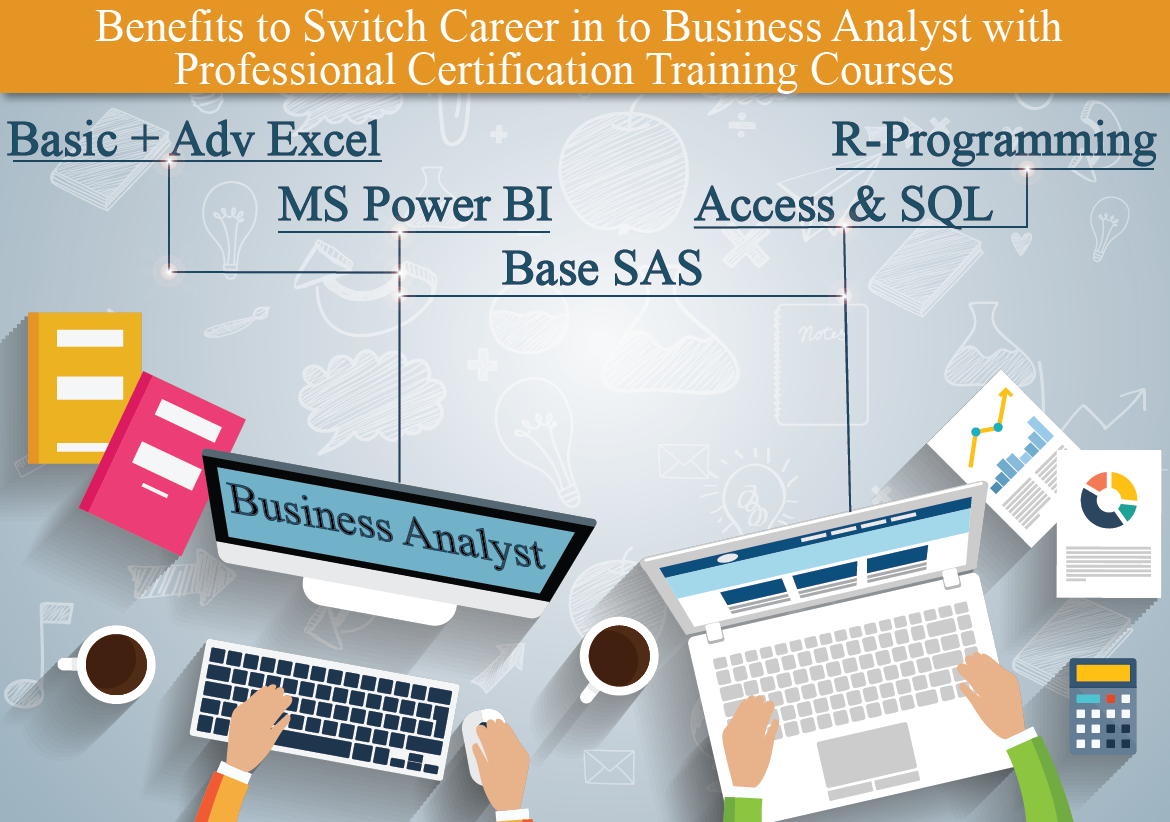 Business Analytics is the current need for the business industry. It refers to the practice of methodology and iterative Exploration of the date of the company with an emphasis on statistical analysis. Business Analytics is utilized by the company for making data-driven decision making. Many of the profitable organizations tend to provide employee development programmes to help them increase their efficiency in Data Analytics and Business Analytics. If the company wants to retain their best employees and make the best out of their contribution, then it is necessary for them to provide Training in Business Analytics in Delhi, Noida & Gurgaon. There are various tools and technique utilized by a professional Business Analyst which include Microsoft Excel, MS Power BI, Base SAS, MS Access & SQL, and R-Programming, among them the best considered is MS Excel.
Companies can choose to provide necessary Business Analyst Certification Training to their current employees and have them Become a Professional Business Analyst through this Business Analytics Certification Courses so that they can help their organization identify and analyze useful information and represent it in a meaningful manner to the management so that they can make better decisions regarding future. Some of the various benefits associated with Business Analytics in Excel Training in Delhi & along with other tools in Gurgaon and Noida are as below:
There are various Business Analytics Training Institute in Noida, Delhi & Gurgaon who offers reliable and high-quality Business Analytics Training in MS Excel, MS Access and SQL, R-Programming and SAS Base which you can hire to provide necessary training to their employees. SLA consultants India is a prominent and highly responsible business analytics training institute in Delhi NCR who is dedicated and committed to deliver the best of training course to the candidates using real-time practical training and projects specifically designed by industry experts which would increase the efficiency and expertise of the participant in business analytics in a short span of time. They have highly certified and prominent instructors having over 10 to 15 years of experience in business analytics who are responsible for conducting various workshops and seminars to provide hands-on experience and Real-world working knowledge of business analytics tools.
After joining their Business Analytics Training Course in Gurgaon, you will be able to enjoy all the above-mentioned benefits for both the employees and the company. They have already trained hundreds of students in Data Analytics in the past 10 years who have now become a professional. After acquiring skills in Business Analytics from the Certification Course, you can achieve numerous job growth opportunities and become a professional Business Analyst, Senior Analyst, Data Scientist, MIS Executive, and much more. Therefore, if you want to increase employee retention and make them a more valuable asset for the company, then get them trained from SLA Consultants India for Business Analytics as soon as possible.